Buffet style wedding receptions are becoming increasingly popular and couples from all over the world are finding ways to redefine this traditionally less-formal service style. Brides and Grooms are realizing that just because they don't want an ultra-formal, black tie plated reception doesn't mean their only option is something that feels makeshift, basic or less than perfect.
We've put together these tips to help you formulate a plan to make sure that your buffet reception is as elegant and refined as you want it to be.
For more blog posts related to deciding on a buffet style wedding reception: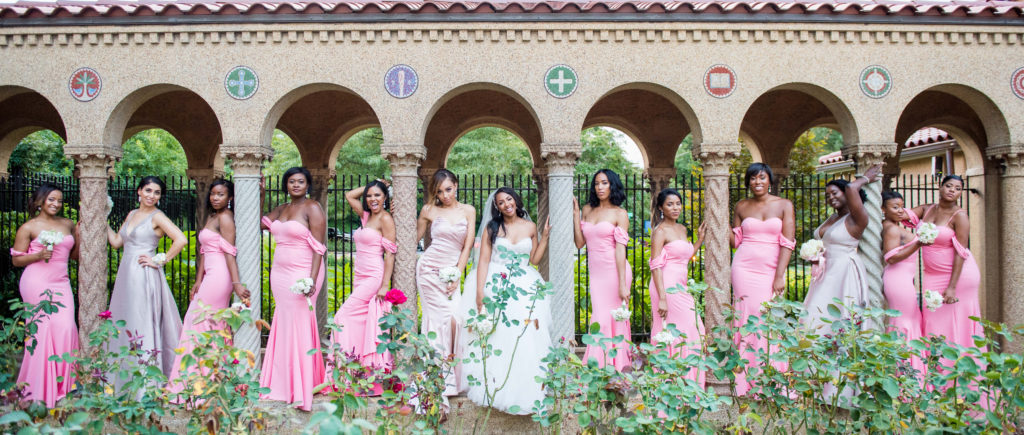 ---
#1: Hire a Wedding Planner
This is tip number one for any service style – make room in your budget and hire a wedding planner ASAP. It doesn't matter how organized of a person you are in your regular day-to-day life. They know the wedding planning process like the back of their hand, and the value of having someone with experience to help synchronize the numerous vendors and decisions on your biggest day ever is immeasurable.
They will be there to keep track of details, make recommendations and keep you from losing your mind, or making emotional, irrational and costly decisions. In the long run, you will more than likely save more money in lost time, costly mistakes than you actually spend on their service.
#2: … Then Hire an Experienced Full-Service Caterer
If you want delicious food and drinks, top-notch service and fabulous decor you need to hire an experienced full-service caterer, plain and simple. There are plenty of great drop-off delivery caterers, but they deal with food only and for an elegant wedding, that just won't cut it.
There are also lots of restaurants out there who are trying their hand at catering, and while you may love their food and service at their restaurant, you're bound to get an entirely different experience at your wedding.
We may be a little biased, but full-service, off-premise catering is an artform. We literally have to move your wedding in, and then move your wedding out. There are hundreds of moving parts that only an experienced caterer knows to account for, and how to manage.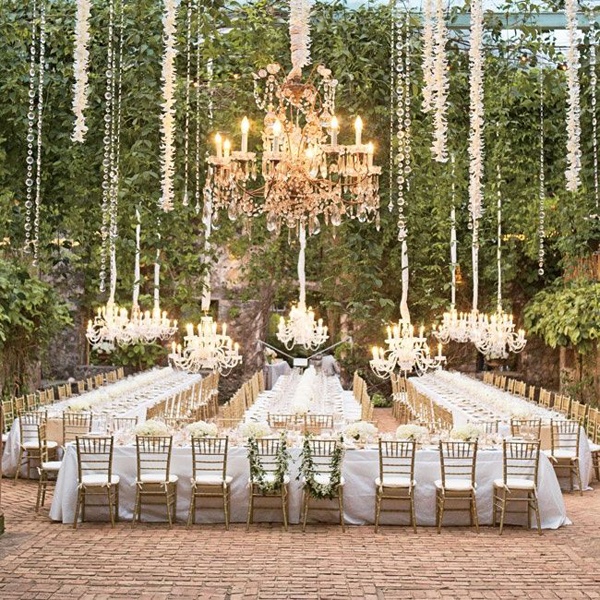 ---
#3: Make it a Sit Down Dinner
Buffet reception and sit down reception do not need to be two different things! Having your buffet reception fully-seated makes for a much more formal feel. It also gives you the upper hand by allowing you to manage some of the chaos through your seating chart.
For a blog post related to buffet receptions as sit down dinners:
#4: Ask for Full-Service for the Head Table
Communicate with your caterer that you would like to have the head table served full-service style, if you would like. You may want to just have a sweetheart table, for you and your fiance, or you may choose to seat your entire wedding party at a head table. Either way, it's a classy touch.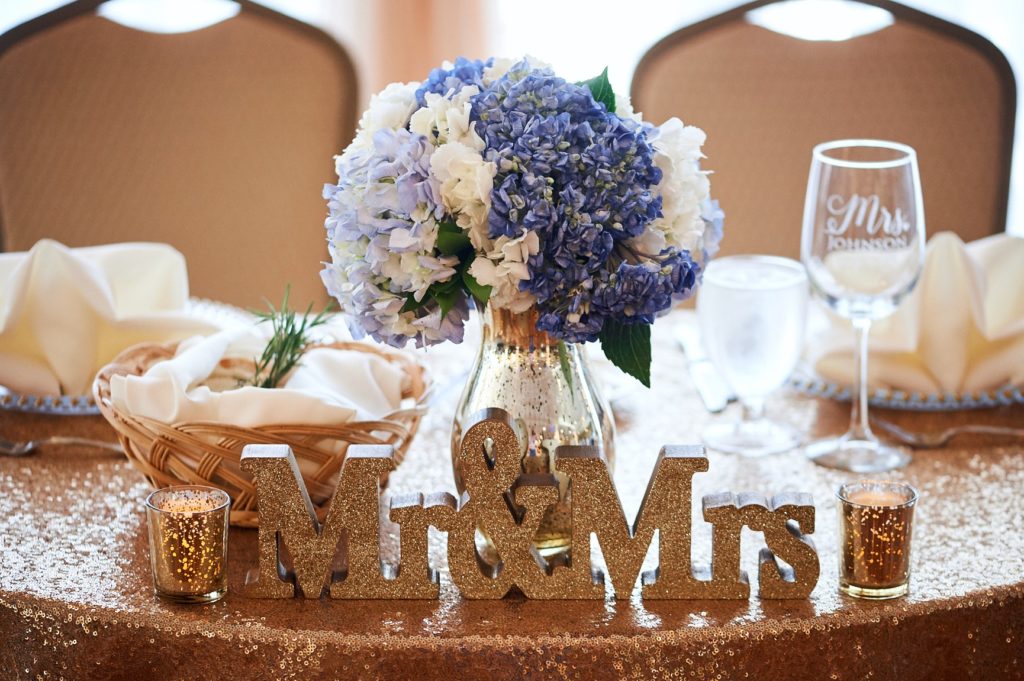 ---
#5: Make it Personal
Themes, hashtags, branding, cohesive stationery designs, thoughtful favors… these all add to the overall guest experience, and give the notion that none of this was just thrown together. All of the little personal details are what make your wedding "you" and what keep things fun for you and for your guests.
For another blog post related to personalizing your reception: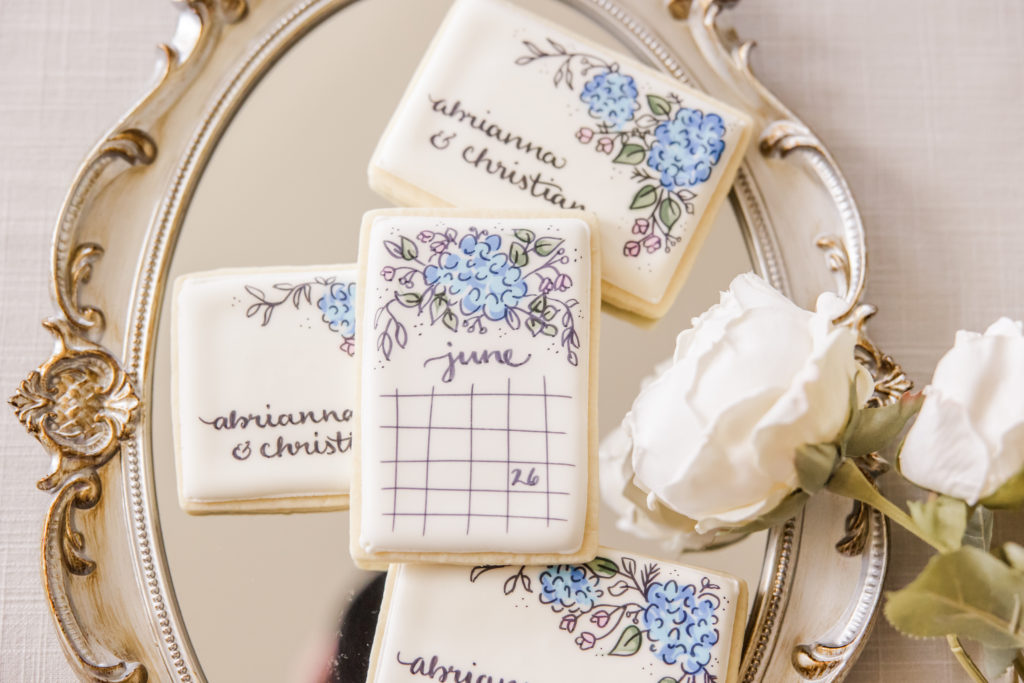 ---
#6: Don't Want Fingers in the Food? You're Going to Need Servers.
Probably the number one complaint that we hear about buffet receptions revolves around fingers in the food. The best way to solve that is actually very simple: don't allow guests to serve themselves. Having servers there to serve your guests actually plays multiple roles – they can help move guests along, keep an eye out to make sure none of the platters ever go empty and answer questions or concerns about ingredients.
#7: Ditch the Double-Sided Buffets
While we're on the subject, stick to single-sided buffets. Visually, they are much more appealing and if you have servers double-sided buffets are unnecessary.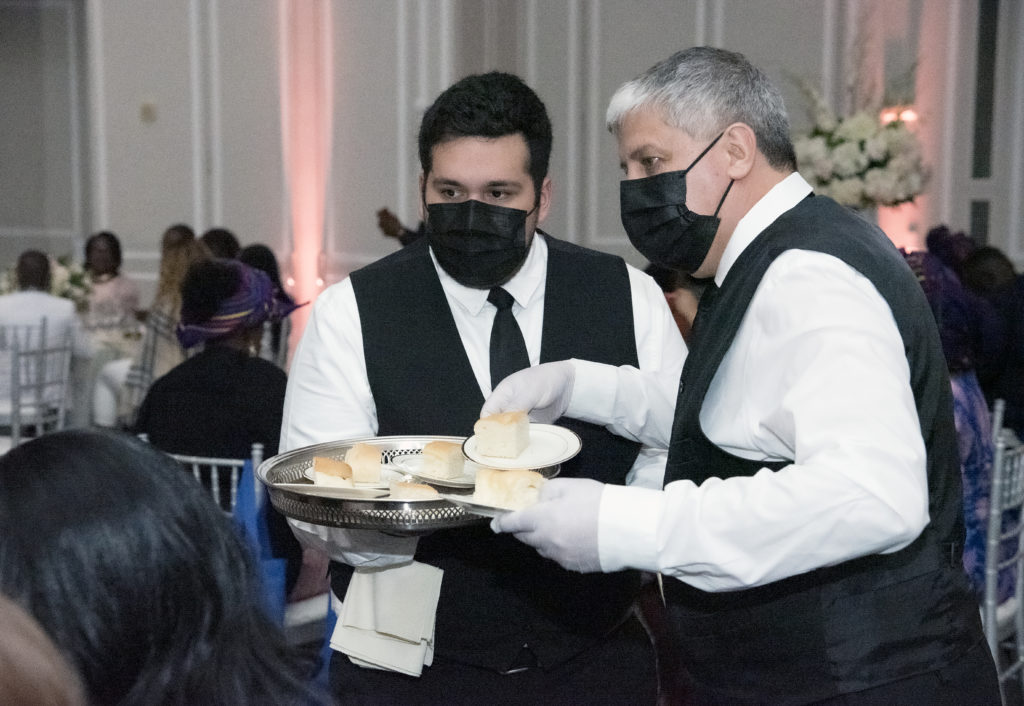 ---
#8: Design Your Table Settings As If It Were a Plated Dinner
Each dining table at a buffet reception can be just as formally set as a plated dinner. Work with your caterer and wedding planner to create tablescapes to fit your vision, complete with linen, florals, china, flatware and glassware.
#9: While You're At It, Add chargers
If you want to go all out, chargers will really complete the look, especially if you pair them with a fun napkin fold.
#10: Create Menu Cards For Each Place Setting
Menu cards at each place setting are as functional as they are beautiful. They give your guests a heads up as to their options, which is especially appreciated by those with allergies or special dietary restrictions. If you take the extra step to add photos, illustrations, or even stories about specific menu items, they become one of those "little things" that are most memorable.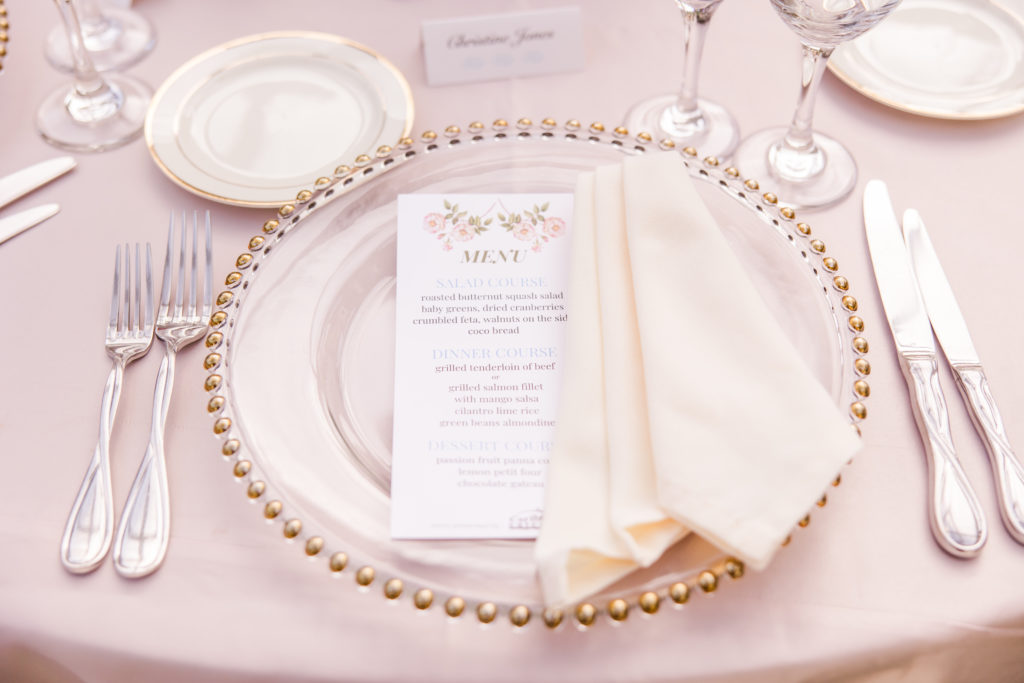 ---
#11: Use a Member of the Catering Team to Release Tables One at a Time
Forget the goofy games, and let your DJ stick to the music. The best way to orchestrate a seamless buffet reception is to have a member of the catering team (Banquet Captain, Coordinator, etc) call each table one by one. They are trained and experienced to know how fast to call each table to make sure that no lines form.
For another blog post related to minimizing lines at your buffet wedding:
#12: Plan Your Menu Wisely
No one wants the food to be an afterthought, so work with your caterer to create a seasonally appropriate menu that fits your overall theme and vision. Don't be afraid to ask about customizing some of the menu items, from specialty drinks to entrees.
For more blog posts related to planning your wedding menu:
#13: Keep the Food Coming
An empty platter of food is a missed opportunity (and a waste of food and money, in the long run) so be sure to work with a caterer who has a plan to keep the food constantly refreshed and filled. Offering guests the chance to get "seconds" from the buffet is a great way to make sure no one leaves hungry, and it makes sure you will have as little food wasted as possible. This is a major win-win.
For another blog post related to minimizing leftovers: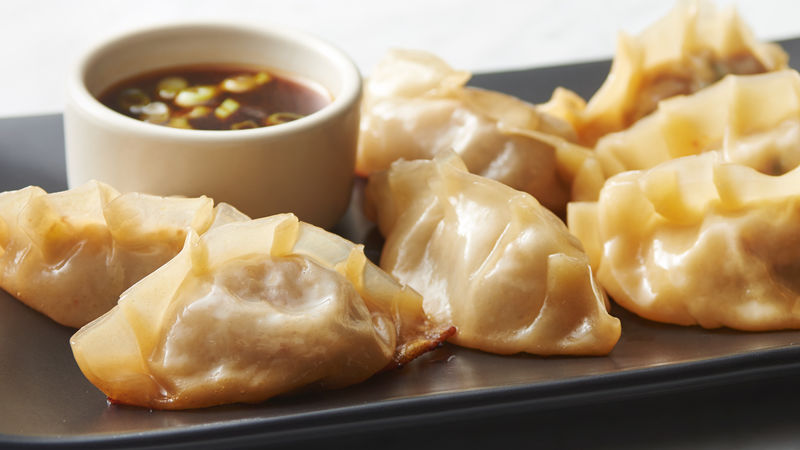 ---
#14: Think Outside the Box
Imagine a buffet beyond just a row of chafing dishes. Add pops of color, expressive florals, fun props, antique risers and platters, vintage candelabras, picture frames for each menu description… the sky is the limit.
#15: End With a Bang
This might be quite literally, with a fireworks display (dependent, of course, on the rules and regulations of your venue), or something more tried-and-true like bubbles, confetti, bells, or even paper airplanes. Another increasingly popular way to end the reception is with an edible wedding favor: the Late-Night Snack. This is usually something simple like your favorite food delivery, or mini sliders served from mini fry baskets.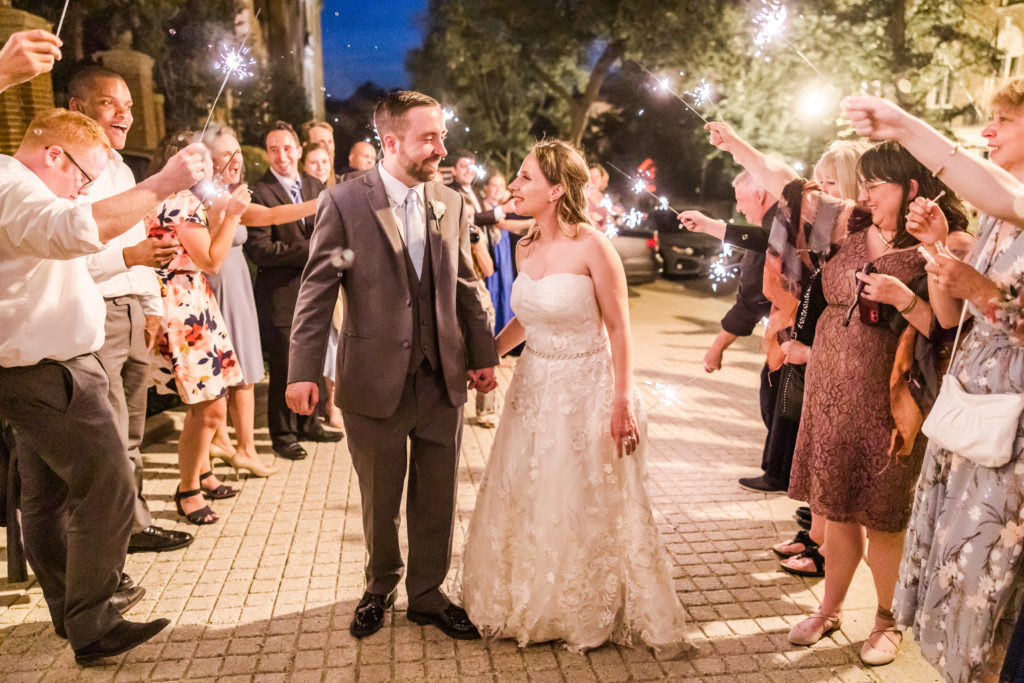 ---
Want to Know More?
Elegant, but never stuffy – that is the Caribbean Caterers motto. We want to make sure that the experience you create at your wedding reception is uniquely you, and always a blast. For over two decades we have helped couples plan all types of wedding receptions and would love to help you plan yours.
Call us for your free 10-minute initial consultation, where one of our experienced coordinators can answer any further questions you may have and see if we may be the perfect fit.
You can also follow these links for more detailed summaries of some of the other reception styles that we offer, as well as other blog posts related to organizing an elegant buffet wedding reception: