Wedding Styles
Buffet Wedding Service
When you hear "elegant, orderly and sophisticated" which wedding reception service styles come to mind? If you have ever found yourself taking a deep-dive into the world of wedding message boards, you probably aren't picturing a buffet style wedding reception.
What if we told you that with the right caterer, your wedding buffet catering will be all of this, and more? Elegant place settings, vibrant colors, delicious outside-of-the-box dishes, and great service are just a few of the reasons that many of our happy couples choose to have a buffet style wedding reception with us.
What is Buffet Service?
During a buffet style reception, the meal is served from designated areas and guests are invited up to the buffet to be served an assortment of dishes, all of which have been elegantly arranged and beautifully displayed.
Buffet style wedding catering is Caribbean Caterers' most popular reception style for two main reasons:
Variety.  Wedding buffet catering provides plenty of options to accommodate everyone from vegans to those with food allergies to picky eaters.
They are less costly than both plated and family style receptions, but still maintain sophisticated elements like full-seating and elegant place settings.
Buffet vs. Plated vs. Family Style
At Caribbean Caterers, all three of these service styles are fully-seated, meaning all of your attendees will have their own seat.
If you are trying to decide between them, there are a couple of main differences to consider.  For more in depth comparisons, check out our blog articles on Family style vs buffet wedding reception and Buffet vs. Sit Down Wedding Receptions for advice on this.
Are Buffet Receptions… Tacky?
So, you love the variety and the level of guest interaction that comes with a buffet, but you have been warned that they are sloppy, disorganized, unstylish monstrosities with scary long lines that your guests will spend all night waiting in, only to find that all of the food is gone once they finally get up there.
You hear a lot of horror stories from well-meaning mother-in-laws, best friends, or even that article from 2006 that you Googled your way into. To your future mother-in-law's credit, wedding buffet catering can be a nightmare… with the wrong caterer. The most common complaints are:
That they are disorderly, messy, and gross because (number 1 complaint) people grab food with their bare hands
That there will be long lines
That they make for a long, drawn out reception and disrupt the flow of your event
That food will run out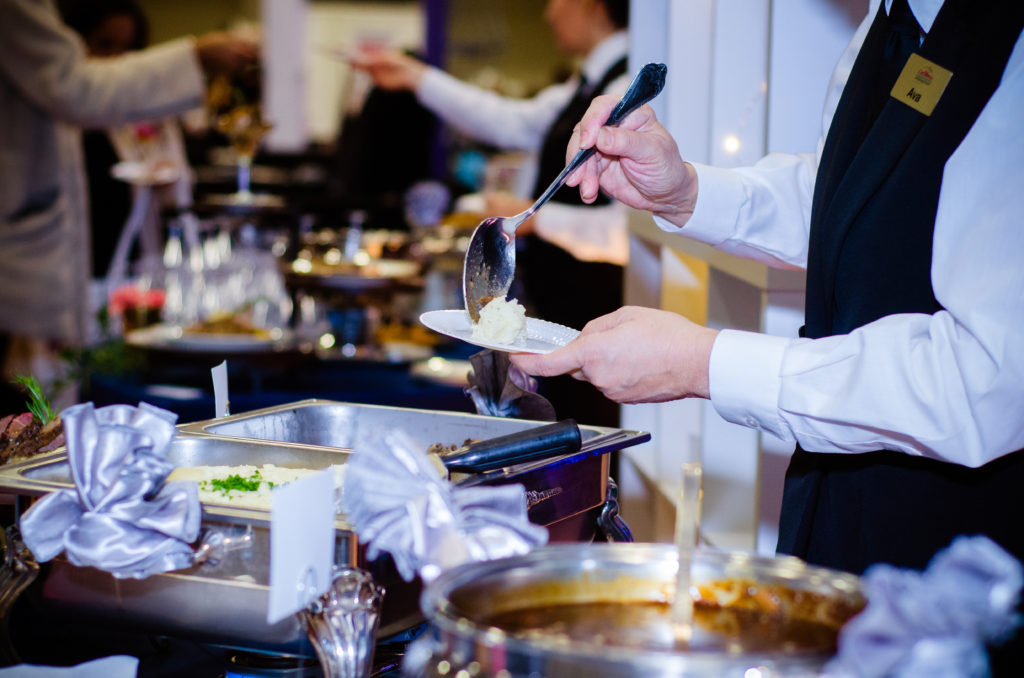 ---
Bringing Sophistication Back to the Buffet Table
Team up with the right caterer, on the other hand, and you will be shown the light! At Caribbean Caterers, we proudly consider ourselves experts when it comes to wedding buffet catering. For those of you dealing with true buffet skeptics, we put together an article that addresses many of these specific client concerns in greater detail, using real client testimony. We take an unprecedented approach to each and every event, handling all of the common objections with four main strategies, and bringing sophistication back to the buffet table!
1. Improved Buffet Etiquette
Our buffets are always served by friendly, smartly dressed, professional waiters. Not only does this keep fingers out of the food (gross!), it gives your guests someone to ask specific allergy-related questions so they don't have to speculate.
Our servers also help to ensure that people move through the buffet lines quickly, attend to any messes and alert our Chefs when items need to be refilled.
2. No Long Lines
Having the DJ make announcements often results in either a mad dash to the buffet, or a distracting interruption that can make conversations difficult as everyone waits for their table to be called. Instead, we have our Banquet Captains personally invite guests to the buffet, one table at a time, and quickly enough so there is no lag.
3. Elegant Table Settings
All tables are formally set with linen, china, flatware, glassware and menu cards so that visually, they are just as gorgeous as a plated setting would be. Many couples even choose to complete the look by adding chargers.
4. Who Wants Seconds?
We actually consider running out of food to be a mortal sin! So, not only do we have our Chefs replenish the buffet throughout the service, we also have them fully replenish the buffet after all tables have been served so that anyone may return for seconds! Your buffet tables will always look as fresh for the last guests as they did for the first.
---
"The Little Things" That Set Us Apart
It truly is all in the details, and the little things really start to add up! When you begin comparing caterers for your wedding, you'll notice these are either not included, or included at an extra charge:
Full service for the Bride and Groom. The head table will never need to walk to the buffet for their meal, unless they prefer to.
Single-sided buffets only. These are much more visually pleasing than double-sided buffets, and just as efficient with our method.
Little to no food waste. Through replenishing and offering seconds, most of the meal is eaten by the end of the dinner. If we do have food left over, our drivers will head straight from your event to the Women & Children's Homeless Shelter in Montgomery County, where it is served for lunch the following day.
Site visit. This is another complimentary service that we provide to relieve some wedding day stress – it's basically a dry run with you, your wedding planner and us.
Design consultation. Scheduled 6-8 weeks before your wedding, this is the time for us to meet with you and your wedding planner and bring your Pinterest board to life by helping you design your own unique tablescape – everything from the linens, centerpieces, table favors and menu cards.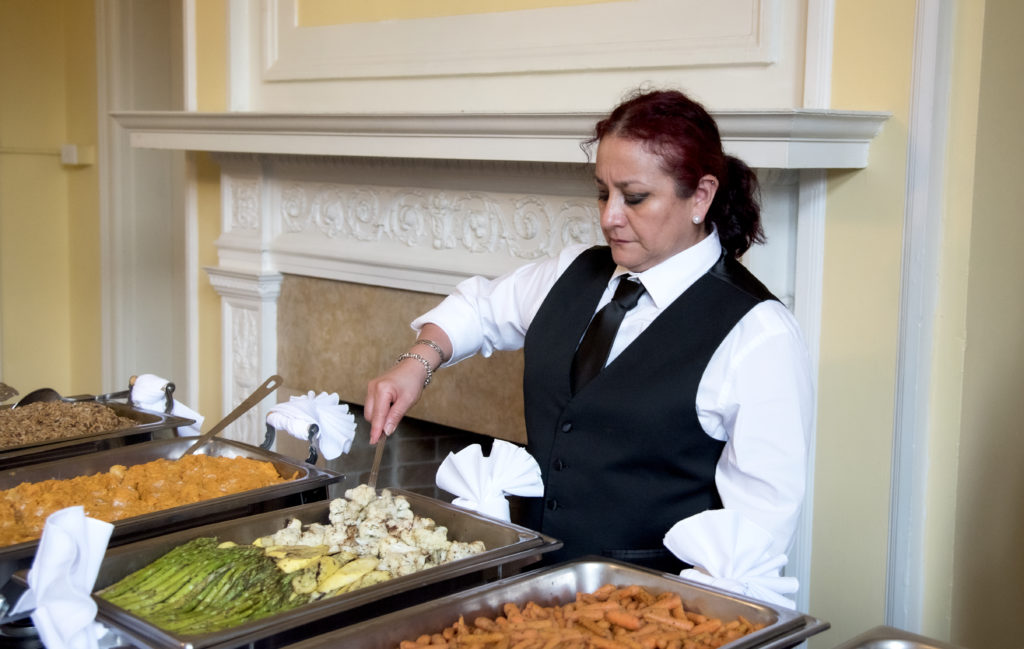 ---
Where to Begin
By now, you can probably see that buffet style wedding receptions are not just the thrown-together, uber-casual events they are often misjudged to be. For our Complete Guide to Planning a Buffet Style Wedding, head over to our blog where we address menu planning, incorporating your own personal style, timelines and more.
And, if you haven't already, we suggest that the first step you take is to hire a wedding planner from our preferred planners list. They will become your Wedding Guardian Angel, helping you keep track of all of the little details, and granting you the mental space to actually enjoy your wedding day.
Do You Need a Menu For a Wedding Buffet?
Yup! As you begin to weigh your options, we suggest that you download our menu book. We have pre-set menus, or you can create a custom menu from our a la carte options. Rest assured that no matter what, your menu will not be the typical run-of-the-mill wedding fare. Time and again we are told by clients that the food was the highlight of the party!
For a complete guide to planning your perfect menu, you can read our full blog article on the subject.  
Making the Buffet Uniquely Yours
One of the things that we love most about buffets is that there are so many opportunities to add personal flavor!
The sky's the limit when it comes to displaying dishes on your buffet. Consider using custom serving stands and platters, antique trays, and other themed props. The buffet decor can become a continuation of your tablescapes, complete with florals, candles, and even framed menu cards to match those at each place setting.
Speaking of menu cards, all of our buffets include these as a part of your table decor. Many guests take these as a keepsake. We will decide on the color and design at your Design Consultation, and they can be fully customized to match your other wedding stationery, or even include photos of the happy couple.
Multicultural weddings are trending, and there are plenty of opportunities to celebrate both cultures in your buffet, whether through the food or table décor.
Is a Buffet Wedding Right for You?
With over two decades of experience, we know the level of elegance that our clients expect and are able to translate that to a more casual service style that is always authentically you, and elegant, but never stuffy!
Our team will be happy to answer any further questions or concerns that you may have during your free initial 10-minute consultation.  We can't wait to hear your ideas, and begin to bring your vision to life!
How much should buffets cost?
Get pricing and compare wedding styles in our 2021 menu book. Here's what's inside.
See new menu items.
Price out your event.
Connect with a planner.
Get the menu book