Wedding Styles
How to Plan a Micro Wedding
Being engaged in these times is full of conflicting emotions. You've been waiting for this moment since you can remember, but then you may also be thinking, why now? It seems that we won't be gathering in large numbers for some time, but for many couples, postponing is just not an option.
If you are asking yourself how, in the age of social-distancing, you will be able to have that beautiful luxury wedding of your dreams, our answer for you is simple: plan a micro wedding. Rather than mourning the loss of your old vision, you can begin to get excited about your new one! Read on for our complete guide that covers all of the basics of planning an elegant, but never stuffy, micro wedding for 2020 and beyond.
What is a Micro Wedding?
The definition of a micro wedding is any wedding with under 50 guests that still incorporates many of the traditional elements of a large wedding. This small-scale wedding style, celebrated with only your very nearest and dearest, can be as elaborate and luxurious or as laid back and simple as you would like.
Tiny Wedding Trend
Even before COVID-19 put the world on hold, small, intimate weddings were quickly gaining momentum. Many Brides and Grooms these days opt for quality over quantity, and highly personalized custom weddings have been trending for a while now. Smaller weddings allow more space to provide an intimate and authentic guest experience that will be remembered for years to come.
Is a Micro Wedding Right For You?
While there are other options for your 2022 wedding, such as elopements and minimonies, the biggest advantage of a micro wedding is that it looks most like a traditional wedding and still allows you to celebrate with your closest loved ones. With a micro wedding, you can still have that glamorous, hyper-personalized wedding of your dreams, while saving money to boot!
For more on why you should consider a micro wedding, check out our blog post:
---
Initial Micro Wedding Checklist
It can be difficult to know where to start once you have settled on a micro wedding because there simply isn't much out there. Being a wedding trailblazer isn't always easy!
Related Article: Small Wedding venues in Maryland
1). What Is Your Micro Wedding Budget?
Probably one of the biggest pros of a micro wedding is the fact that you will automatically increase your per person budget, if you choose, by 2, 3 or perhaps even 4 times what it would have been had you had a 150 person wedding.
If you were planning on a large wedding originally, a simple way to plan a budget is to think of what you were planning on spending for, say, 150 people and divide that by your new estimated guest count. Or, perhaps you're beginning to think that you don't want to spend quite as much overall, but still want to step up your game.
Either option is pretty exciting, right? Suddenly, a lot more is possible and this rough budget will set you on your way for making the next big decisions. It is important to be sure and include your Wedding Planner in your initial budget discussions as they will be able to give you insider tips, tricks and advice that you may not have thought about.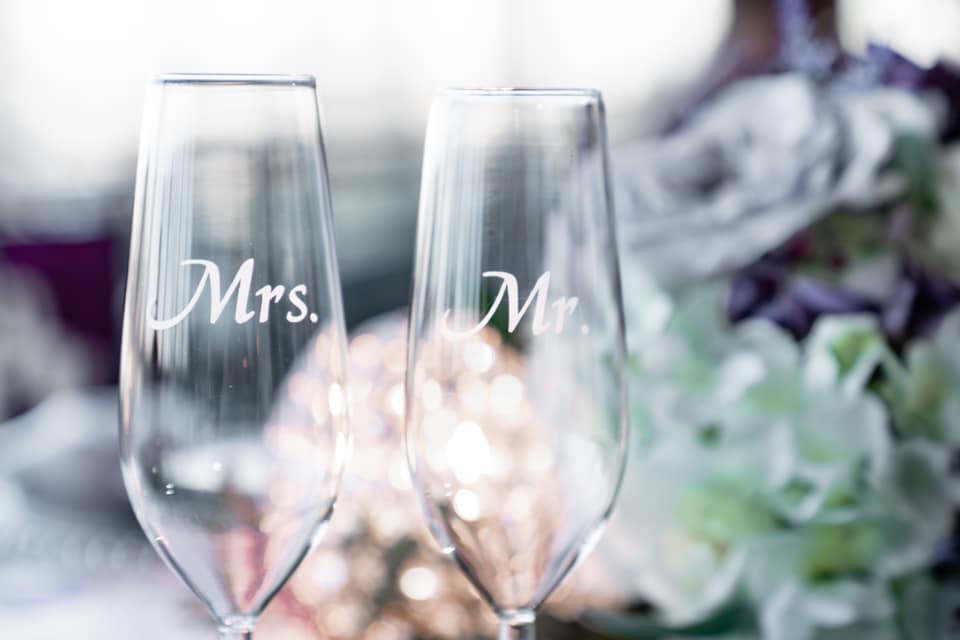 ---
2). Decide What Is Most Important To You
With a budget in mind, now is a good time to sit down with your fiance and hash out what is most important to you both. You now have more money per person to work with, and less people to please, opening the way for all sorts of possibilities to spoil yourselves and your loved ones.
Make a list of your mico wedding ideas based on what is most important to you both:
Are you foodies? Go all out with a tasting menu, then finish the meal with personalized mini wedding cakes for each guest.
Music geeks? Skip the DJ and hire a live band.
Perhaps you want to splurge on an incredible venue, or go wild with elaborate florals or hand-printed stationery.
3). Choose Your Team (Wisely)
Micro Wedding Planner
Even small weddings have a multitude of logistics and an experienced planner will save you stress, mistakes and money. Plus, they will allow you and your guests to actually relax and enjoy your special day, rather than relying on yourself, or even your guests, to pull it off the day of.
Access our Preferred Planners list here:
Experienced Caterer
Choosing your caterer is honestly one of the most important decisions (and yes, we are biased) because your caterer does so much! They will often take care of all food, beverage, service staff, set-up and break-down and even rentals and decor. Just because your wedding is "micro" doesn't mean you don't want top notch food and service. In fact, quite the contrary as each one of your guests are your best people!
You should also research and interview potential caterers as you would for a large wedding, asking questions like:
How long have you been in business?
Will I be able to create a custom menu?
Can I make changes to my proposal? If so, until when?
Are you familiar with my venue, florist, or photographer (if chosen)?
How do your servers dress at events? What kind of experience level do they have?
Who will be the contact on-site during my event?
What all is included in your pricing?
---
Micro Wedding Packages
More and more caterers are beginning to offer luxury Micro Wedding Packages. Some of these packages are all-inclusive, while others offer a range of packages that include a variety of elements which can then be completely customized to fit your budget, style and guest list. When you are interviewing potential caterers, asking about their micro wedding packages is a good place to start.
Caribbean Caterers has begun to offer base prices for micro wedding packages with luxury add-ons for things like:
A floral canopy for your "Sweetheart Table"
Specialty bars
Cigar bars and lounges
Lounge furniture for the after-dinner reception
Specialty linen
Pre-Ceremony reception
Other Vendors
Most micro weddings will have all or some of the following vendors: officiant, photographer, videographer, florist, DJ/band, stationery designer and cake decorator.
Obviously, the vendors you choose from here will depend on the priorities that you already established with your fiance. Keep in mind that some vendors will still run roughly the same price as they would for a larger wedding (i.e. a DJ or band), but some will be much lower due to the low guest count (i.e. cake decorator, florist or stationery designer).
4). Pick a Venue
While destination weddings can be a great way to celebrate a micro wedding, chances are, most people aren't going to be jumping at the chance to travel too far for a wedding anytime soon.
Luckily, one of the hallmarks of this wedding style is flexibility – you can fit 20 people into many more places than you can fit 200 people. An entire world of venue options opens up when planning a micro wedding, many of which are probably right in your own backyard (sometimes quite literally!).
How Do I Convert My Backyard For My Wedding?
We have seen some fantastically luxurious backyard weddings take place, and absolutely love working with couples who want to go this route.
For more details on planning a backyard micro wedding, check out our blog: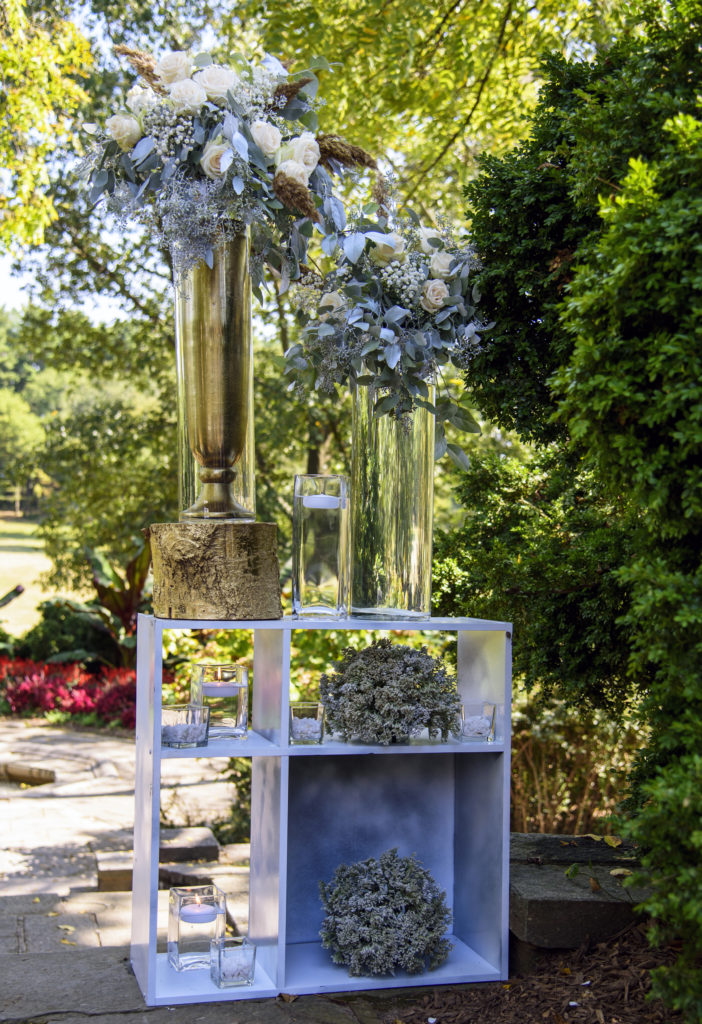 ---
How To Plan a Socially Distant Micro Wedding for 2022
The most important thing is to keep your guests and vendors safe, while designing a reception that's stylish and sophisticated. Besides your guests, there will also be waitstaff, bartenders, photographers and more, and some states have restrictions on gathering size so you will first need to check how your state is handling the situation.
How To Choose Who is On the Guest List
This can be one of the trickiest parts of planning a micro wedding. Especially if you were originally planning to have a large wedding, paring down to just a handful of VIPs can seem daunting. Close family and lifelong friends are fairly easy to nail down – it's the other important people in your life that can have you overthinking.
Here are a few warm-up questions to ask yourself as you begin to make cuts:
What are the regulations in our area for group gatherings?
How many people do we want to invite?
Should we say no to children and plus-ones?
If the wedding is going to be in your backyard, how many will comfortably fit?
Once you've got your number, you can help rule out difficult choices with questions like:
Would I feel comfortable spending a couple hundred dollars on this person to treat them to a nice dinner?
Do I see myself having a long future relationship with this person?
Have I spent many intimate moments with this person in the past?
How To Include Those Who Don't Make the List
Keep a running list of all of those who don't make the cut and find ways to let them celebrate virtually.
At Caribbean Caterers, we have created a wedding gift box, complete with cake, custom toast glasses, an announcement and other personal tokens that will be prepared and gift wrapped by us. The client will handle shipping to ensure that it will arrive just before or on the day of the wedding.
You can have your videographer livestream the ceremony (and reception, if you choose) and the guests can attend virtually while they enjoy their gift box. It's a great and memorable way to make everyone feel connected to your special day, even if they can't be there in person.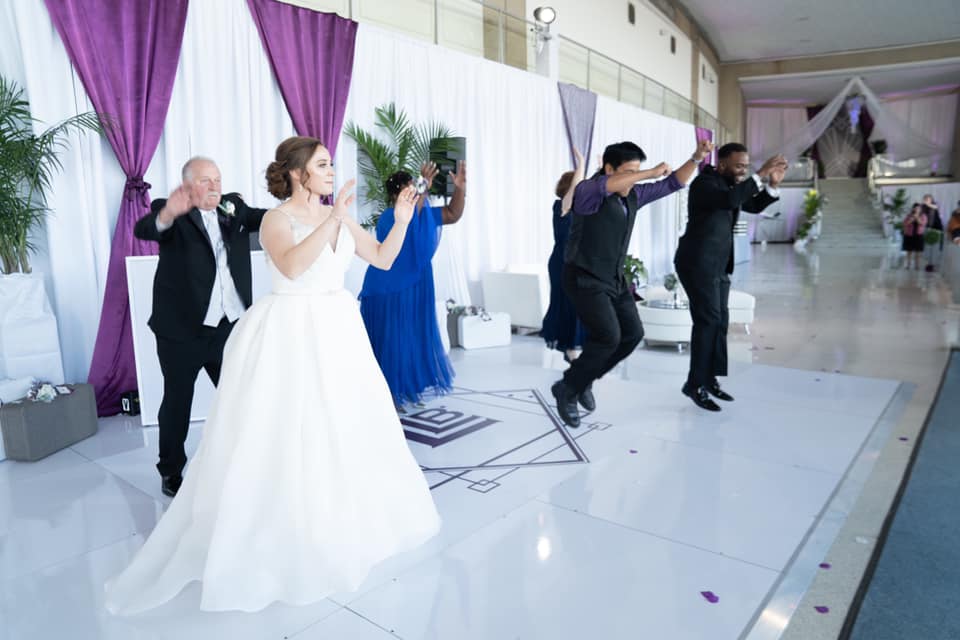 ---
Micro Wedding Schedule
A good timeline is crucial to the flow of your event. It can be easy to overlook with a small wedding, but it is just as important. Here are a few unique considerations to keep in mind for your micro wedding ceremony and reception:
1). Ceremony
Micro weddings are quick, with ceremonies typically lasting just 30 minutes or less, and the entire thing lasting under 4 hours total.
2). Photographs
With a traditional larger wedding, photographs are often taken between the ceremony and the reception, while your guests enjoy a Cocktail Hour. However, with a small wedding where social distancing is a concern, you may choose to take your photographs before the ceremony and eliminate Cocktail Hour mingling altogether.
If you want to stay traditional and you don't want to see each other before the ceremony, you can do "his and hers" photos before the ceremony, followed by brief family shots after the ceremony. Also, since all guests are family and close friends, perhaps even a socially distant group photo after the wedding is called for.
Cocktail Reception
If you must have a Cocktail Reception, you can always do so with the request that guests sit at their assigned seats, then select an Hors d'oeuvres course and custom cocktail list to be served to them. Remember this should be brief (not an actual hour!) so that your guests aren't waiting too long.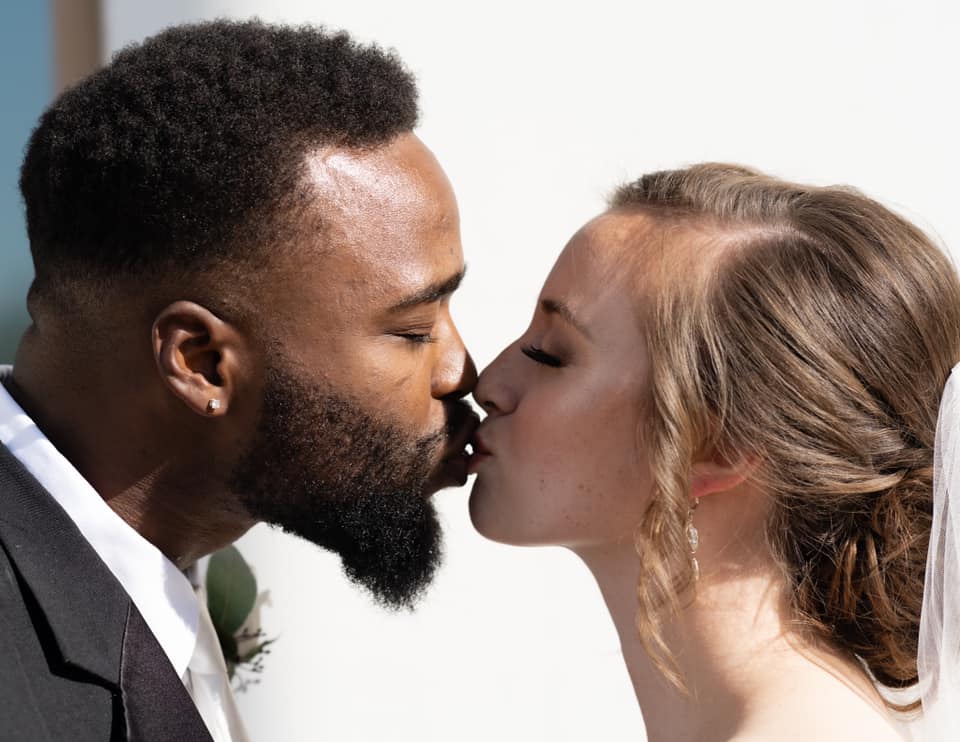 ---
Seating Chart
The key to social distancing safely without affecting the intimacy of your wedding will be your seating chart. Some venues recommend that you seat only 4 people at a table meant for 8. But, this will mean that aesthetically, your tables will be bare and not make for great photos. Also, it can lead your guests to feel isolated or, worse yet, uncomfortable.
In order to create a comfortable, beautiful and safe reception space, we have a few seating chart tips. At Caribbean Caterers, we pride ourselves in being experts at designing floor plans of all shapes and sizes, so we've put together a few tips to get you thinking:
Seat families in the same household together so they don't have to social distance.
When you rent your tables, choose the sizes to fit your guest count. For example, a family of 3 would sit at a table sized for 3 people, while a family of 5 would sit at a table sized for 5 people. Each table will look appropriately filled and the whole room aesthetic will align.
Make sure that the decor and florals at each table look appropriately filled in order for the entire room aesthetic to align. This will also make for much better pictures!
Table Décor
With fewer tables to fill, you can be as minimal or extravagant with your florals and decor as you like.
Large, flowing centerpieces are a great way to mimic and enhance the natural surroundings of an outdoor wedding.
If you want to go a little more minimal, while keeping the tablescapes elegant, you could go with mini bouquets in miniature vases set at each place setting.
Seasonal florals are a great way to set the tone and theme for your reception, particularly with an outdoor wedding.
Beautiful plateware, glassware and linens go a long way when it comes to lavish versus lifeless, and with less tables and place settings you can really rent the best. Or perhaps you even have meaningful heirlooms that you want to use for the occasion.
---
Meal Service
During the current COVID-19 pandemic, the safest option for your micro wedding reception is to go with a plated meal. Luckily, this is often the preferred service style for micro weddings anyway, and many couples choose to treat their guests to an elevated, creative meal because there are fewer mouths to feed.
During a micro wedding reception with Caribbean Caterers, we fully set each table with linens, tablecloths, napkins, chargers and place setting along with the centerpieces and decor so that they look just as beautiful as they would with a larger wedding.
One additional safety option that we have presented to our couples during COVID-19 is to offer "better disposable" service-ware that still looks elegant. We can come up with micro wedding ideas for all of your COVID-19 concerns, no matter how big or small because we know that this is the top priority these days.
Tips for Making Your Micro Wedding Memorable
Micro weddings are perfect for couples who are looking to pioneer their own style, and are memorable by their very nature. However, if you want to step it up a notch, here are a few items to add to your micro wedding to do list:
Write personal, meaningful vows for each other.
Set a handwritten note for your guests at each place setting, or give them personalized welcome bags as they arrive. These could either take the place of, or enhance, your wedding favors.
Skip the photo booth, dance floor or whatever else is simply not important to you. You can use the money that you save on something that you care about more.
Add lavish "upgrades" to push the guest experience over the top. This might mean specialty cocktails and finer wines, or if your guests are willing to travel, maybe this means booking complimentary hotel rooms.
Think outside the box! This goes for everything from your meal to your dress code.
Ready to start planning your micro wedding?
Micro weddings are the 2020 wedding trend that isn't going away anytime soon, and we are happy to answer any questions that you may have.
With over two decades of experience planning weddings, we know that no two couples are alike and we strive to make sure that each and every wedding is uniquely elegant, but never stuffy. Give us a call for your free initial 10-minute consultation where one of our coordinators will walk you through everything you need to know about your next steps.
You can also read more information on micro weddings here:
How much should a micro wedding cost?
Check out our 2021 menu book to see our exact wedding pricing. Here's what's inside!
See new menu items.
Price out your event.
Connect with a planner.
Get the menu book