Inside look
VisArts Center Weddings
This rooftop venue in Rockville fits 150 guests.
Visually stunning and structurally flexible, this venue will give you everything you need to wow your event guests.
Visarts Center
Rockville • 150 Guests
If you're in the market for a Rockville, MD wedding venue, or a full-service caterer in the area – or both! – then boy, have you come to the right page!
VisArts, as its name might suggest, is, simply put, a visual delight. Not far from Washington, D.C. and nestled in the heart of Rockville, this reception venue has the space and visual elements you need for the event of a lifetime. Whether it's for a quinceanera, a corporate event, or the wedding celebration of your dreams, Caribbean Caterers and VisArts work as a team to bring your vision to life.
We here at Caribbean Caterers know this venue inside and out. It may sound like a cliche, but it's true – we can transform this Rockville, MD wedding venue into anything your heart desires. And we have a variety of catering options, whether you opt for a plated or buffet-style meal for your event.
The Venue
We at Caribbean Caterers cannot recommend VisArts highly enough, especially if you are a visual artist yourself or if you have an interest in the visual arts.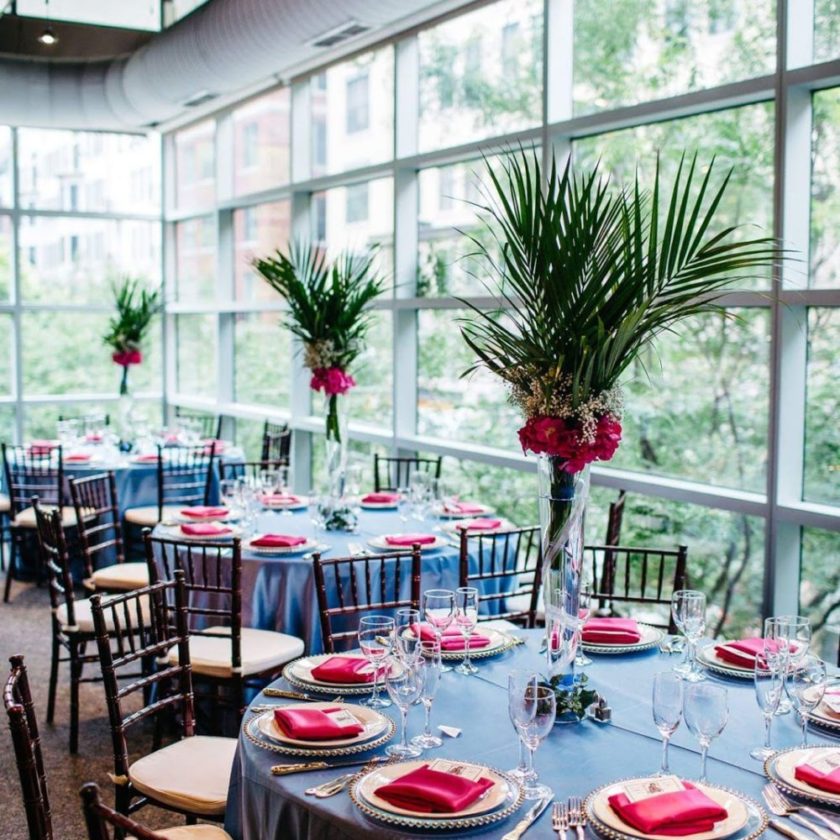 VisArts supports visual artists local to Rockville, MD. In fact, local artists often rent space here to show their art, which you can also purchase. This makes for a lovely addition to the already good time you may be having in the Rockville town square.
(And hey, if you still need a wedding gift, how about a local painting? Art can make a lovely gift for a new home!)
People who enjoy the old-world charm of downtown Rockville often recommend VisArts for milestones and special occasions. Plus, parking down here is a breeze, which is a big help for your out-of-town guests.
Every event held at VisArts is memorably fun, no matter whether it's a VisArts wedding or a birthday party.
Maybe it's the physical space or the atmosphere. Maybe it's the guests themselves. Or maybe it's the way we at Caribbean Caterers can mold the venue to the event of your dreams. Whatever it is, there's no denying there's magic in the air when you hold your event at VisArts.
We at Caribbean Caterers have the catering experience necessary to confirm that no wedding in the area can compare to a wedding held at VisArts. Events here are truly awe-inspiring. Once you decide to hold your event at VisArts and experience the magic that Caribbean Caterers can bring to this venue, you'll be thanking yourself for years to come that you made the right choice.
The Rooftop
Perhaps the most charming feature of this Rockville, MD wedding venue – the creme de la creme, if you will – is its rooftop.
Upon their arrival at VisArts, your guests may have no idea where to go. They step on the elevator and press the "up" button. Once their elevator arrives at the rooftop, they'll feel like Dorothy opening the door to Oz.
As your VisArts wedding caterer, Caribbean Caterers can transform VisArts' rooftop into whatever you desire. An underwater theme for a bat mitzvah? No problem. A fairytale winter wedding? Done. A sports theme for a corporate event held on the Saturday before the Super Bowl? We've got you covered.
Some of the amenities we have provided in the past – in addition to our expert catering services – to help our clients transform the VisArts rooftop into the paradise of their dreams include:
An oasis of flowers for a wedding ceremony
Drapes billowing from the floor-to-ceiling windows, in your choice of colors and styles
Stages and platforms to elevate the guests of honor (brides and grooms, birthday girls/boys, guest speakers, etc.)
Eclectic backdrops to match your event's theme
The rooftop site makes a VisArts Rockville wedding unmatched when compared to similar weddings held in the area. The rooftop truly helps us set the mood. We constantly hear guests discussing how grand the rooftop is as we scuttle about, filling drinks and hors d'oeuvres orders, and how the rooftop just makes them feel alive.
The Corridor
Once your rooftop purposes are fulfilled, then it's time to move to the VisArts corridor.
As your wedding caterer, Caribbean Caterers can help you use this rather large corridor to receive guests at your reception.
There are numerous ways you can use this large corridor to your advantage. Some of our clients have elected for us to set up a bar for their cocktail hour, while others prefer more unique activities that their guests are sure to remember fondly. Some of these unique activities we have set up for our clients in the past have included:
Caricature drawings
Hand-painting
Hand massages
Whatever you'd like your guests to do to pass the time between your bigger moments, Caribbean Caterers can help. We can serve your guests with food and beverage options before they move on to dancing, or dinner in the fabulous Buchanan room.
Large Group? No Problem!
Our clients often express their nervosity over our moving their entire party from one room to the next, and from one event to the next. However, what may seem like a challenge to you is actually a thrill for us!
You may think catering is all we do, but we actually play a much larger role in helping your special event go as smoothly as possible. As such, we much prefer helping guests move from one activity to the next, rather than seeing guests sitting around bored for four hours in the same chair, in the same room.
As you have probably experienced as a guest at other weddings or large events held in hotels or country clubs, everything tends to happen in one room, and guests are confined to the same seat all night. Not at VisArts!
Caribbean Caterers works to ensure that your guests are not bored and that no one gets lost or confused moving from one of your evening's exciting events to the next.
The Great Outdoors
Once your guests have exhausted the events held in the large corridor, they can move down to what we call the "glassware room" of the venue.
This room essentially continues the magic your guests experienced while out on the rooftop, only with the creature comforts that can only come from being inside. Here, you can still take in the picturesque buildings nestled in this revitalized space through the crispness of the glass that surrounds you.
This room feels a lot like a New York City skyscraper in that the city of Rockville surrounds you, though you're actually inside. This makes for a truly magical sight once the sun goes down and the lights of the city surround you as you and your guests party into the night.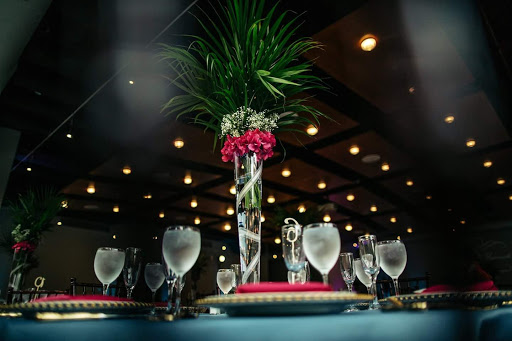 A Final Word about VisArts
If you're currently researching Rockville, MD wedding venues, we at Caribbean Caterers cannot recommend VisArts highly enough. And, if you've worked with Caribbean Caterers before, then you know we are an attentive and knowledgeable caterer who you can trust to recommend a venue that strives to be a living version of your fairytale.
Choose the VisArts center for your next special event, and Caribbean Caterers will strive to make it one of the most memorable events of your life!
Visarts Center
155 Gibbs St, Rockville, MD 20850
(301) 315-8200
View Map
Book your free
consult
You're just 10 minutes away from event bliss.
Get Started