Bee Two Sweet Photography
Inside look
St. Francis Hall DC Weddings
This ballroom venue in Washington DC fits 300 guests.
This Franciscan Monastery allows you to satisfy all of your guests by giving you a traditional, nightclub and garden wedding all in one. St. Francis Hall even has it's own parking lot.  What can't this wedding venue do?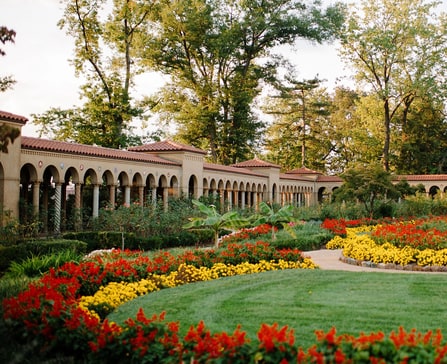 St. Francis Hall
Washington DC • 300 Guests
It's a situation that happens all too often. You're planning your wedding, and no one can agree on the kind of venue you should book. This is the most important event in your life so finding and making sure the perfect venue is available for your event is paramount.
Your mother wants you to have a traditional, romantic, quiet, sit-down event. And she wants to make sure the photographer can capture the entire engagement and get some outdoor "natural sunlight" photos.
Your fiance wants the exact opposite – a loud, nightclub version of a wedding that screams your love from the rooftops.
And you – you've always dreamed of a pleasant garden party reception.
Well, the good news is that you can have all three of these things in the same place with St. Francis Hall! St Francis Hall, on the grounds of the Franciscan Monastery, is hands down one of the most satisfying wedding venues in Washington, DC.
Located in Northeast Washington DC, St. Francis Hall and Caribbean Caterers have a sparkling history together of surprising their guests by providing them with three different wedding scenarios all rolled-up into one glorious and unforgettable reception. No other wedding venue in DC will provide you with the options of a St. Francis Hall wedding.
The "Traditional Wedding" Reception
First, let's talk about pleasing Mom and all the older folks at your wedding. Caribbean Caterers can add an elegant look to the great hall inside St. Francis Hall by supplying you with linens and decorations done in a classic white with a touch of gold. This gives you that silver (or gold) linen of elegance that so often accompanies a more "traditional," classic wedding event. Plus being inside of the Franciscan Monastery lends itself to the feel of a tradition.
Related Article: Top 10 Wedding Venues in DC
Caribbean Caterers will work with you to select the exact tables and chairs you like for that very romantic, very traditional sit-down dinner. We know weddings, and we know Moms! We can and will transform St. Francis Hall into the reception your mother had always dreamed of for you. Your photographer or videographer will be able to capture all of the elegance and class so mom can remember forever.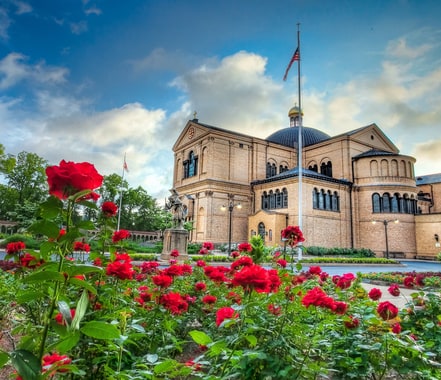 We are proud to go that extra mile to ensure that your St. Francis Hall wedding is replete with the elegance and luxury that your mother would love for her baby's special day. Together, you, your mother, and Caribbean Caterers can work together, reviewing and recreating your inspiration photography to ensure the hall will look exactly how you want it to look before we ever even set anything up for your St Francis Hall Wedding.
In fact, if you have them available, you can actually send us your photos in advance by email! That's right, Caribbean Caterers will review your inspiration photos, create some ideas for the rooms, and then share them with you and Mom for your final approval before we go ahead with the design for your wedding. If emailing the photos is not an option you can also email us links to Pinterest Boards. We know that you have a lot of consider with an event space from rental rates to wedding photography to event planning and we want to help take event design off your plate.
The "Nightclub" Reception
Your fiance wants to have a loud, boisterous reception to celebrate marrying you after your courtship and engagement – and who could blame them? Well, boy does St. Francis Hall wedding deliver! The acoustics in this wedding venue are simply out of this world. They literally take your breath away as they reverberate off the walls. Don't let the fact that it is a Franciscan Monastery fool you, if you want your wedding day or cocktail hour to be a party, this Franciscan Monastery DC will not disappoint.
At a St. Francis Hall wedding, you don't just dance…you dance. When the time comes to party, St. Francis Hall has you covered. And just imagine the pictures your professional photographer will snap of you and your fiance having a blast while cutting a rug!
And, of course, no dance party is complete without Caribbean Caterers serving as your St. Francis Hall catering team extraordinaire! We'll serve you drinks to keep you going as you dance the night away with your spouse.
The "Garden Party" Reception
Now that you don't have to worry about pleasing everyone else, you can focus on what you want – a beautiful garden party reception.
Once you've settled on your signature "His" and "Hers" drinks (more on that later), Caribbean Caterers will then serve your guests with these drinks as part of our greeting upon their arrival. We are proud to offer such an elegant reception of your guests.
Related: Browse More Wedding Venues
Picture this: you're in the upper balcony of St. Francis, sneaking a first look at your room before your guests arrive and taking some photos. Upon their arrival, your guests exit their cars, walk down the beautiful steps to the outdoor garden area, and we're there to greet them with your signature drinks. At that point they know, "this is no ordinary wedding", it's about to be an elegant engagement like they have never experienced before.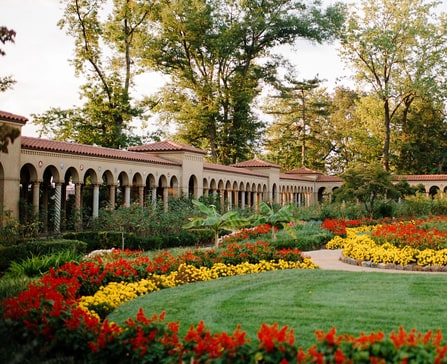 Our waiters will then serve them with the hors d'oeuvres that you and your fiance specifically chose to go with your signature drinks. This enchanting cocktail reception transforms into a classic garden party worthy of an old-fashioned Audrey Hepbern movie!
The photography from this garden ceremony will be so amazing you will feel like you are still there years later. And the Franciscan Monastery Gardens located next door are a photographer's dream, as they provide a beautiful outdoor backdrop for photos, both professional and amateur, after the ceremony. It is truly one of a kind in Washington DC.
Personalized "His" and "Hers" Drinks
Your guests may think upon arriving at your reception that it will be just like every other wedding they've ever been to. They think they'll enter the venue and sit around bored or making meaningless chit-chat until the happy newlyweds finally arrive.
However, they're in for a treat when you hire Caribbean Caterers for your St. Francis Hall wedding!
Because, unbeknownst to your guests, long before they even arrived at your ceremony you and your fiance were behind the scenes with us, tasting and designing drinks until you found the perfect "His" and "Hers" combinations.
You can create your special drinks from scratch, or you can recreate those same drinks that have special meaning for you and your fiance's relationship. Did you bond over a particular drink while you were courting? Do you enjoy a specific drink every year when you go out to dinner for your dating anniversary? Is there a drink everyone knows you or your fiance for?
Whatever drink you'd like to share, Caribbean Caterers will help make it a reality. We can even name them for you!
Outer Corridors
Speaking of drinks, once it's time to hit the bar, you may be pleased to learn that Caribbean Caterers sets up any and all additional amenities in St. Francis' beautiful outer corridors, so as not to interfere with your actual reception. This means the bar, the photo booth, the buffet – all of those things we relegate to the corridors so as not to be in anyone's way.
St Francis Hall also has beautiful gardens and a side lawn where your wedding party can take the most beautiful outdoor photos. The beautiful gardens are also great for cocktail hour. Bottom line they have every event space you would want for your wedding day.
You want clean lines that aren't encumbered by too many activities going on at once. By putting these activities in the outer corridors, they are in close enough proximity that your guests can still get to them without feeling like they are leaving the party, but you're not tripping over each other either.
We ensure the reception room remains a room that is just for the guests, and maybe the cake table – but that's it.
Parking
If you are from or familiar with the DC area, then you know how difficult parking can be. In fact, it puts a lot of folks off from holding their wedding receptions in DC.
However, something that makes St. Francis Hall an incredibly competitive venue is that they have their own parking lot. This is something sure to please all the guests at your wedding, including those who opt to stay in hotels near St. Francis Hall in Washington, DC.
Make Your Wedding a St. Francis Hall Wedding!
If you're in the business of planning a Washington DC wedding, you may be amazed by how happy you'll be with a St. Francis Hall wedding. After all, it's the kind of place that can please you, your fiance, and your mom – all at the same time!
Not only that, but we here at Caribbean Caterers work hard to ensure that your St. Francis Hall catering experience is as beautiful and memorable as your wedding.
St Francis Hall is a Franciscan Monastery, Washington DC located in NE Washington DC located near Catholic University. Their address is: 1340 Quincy St NE Washington DC 20017. Questions about their rental fee for their event spaces should be directed to their phone number.
St. Francis Hall
1340 Quincy St NE, Washington, DC 20017
(202) 425-6548
View Map
Book your free
consult
You're just 10 minutes away from event bliss.
Get Started