Schedule your free 10 minute consultation.
The fastest way to get answers, no obligations, no strings attached.
Get started
Over the past decade, we have witnessed a dramatic rise in food allergies and special dietary needs in the catering industry. Where there used to be a nut allergy here or there, it now seems a majority of guests have dietary restrictions.
After catering over 20 years worth of weddings, we like to think that we know a thing or two about how to best accommodate food allergies at your wedding.  The good news is that you've already made one excellent decision – buffet wedding receptions are one of the most allergy-friendly reception styles. You can provide something for everyone with a buffet, and best of all, you won't need to keep track of dietary restrictions with seating assignments!
To help get you started, we've put together these tips on how to make your buffet wedding reception allergy-friendly that should put you in a good place as you begin to plan your special day.
First Things First: Educate Yourself
Before you even begin the menu planning process, it's a good idea to familiarize yourself with the major allergens (peanut, tree nuts, gluten, dairy, shellfish, fish, eggs) as well as the difference between vegan, vegetarian, pescetarian and Kosher. It will be easier to have an educated conversation with your caterer (as well as any future questions from your guests) if you have some background knowledge.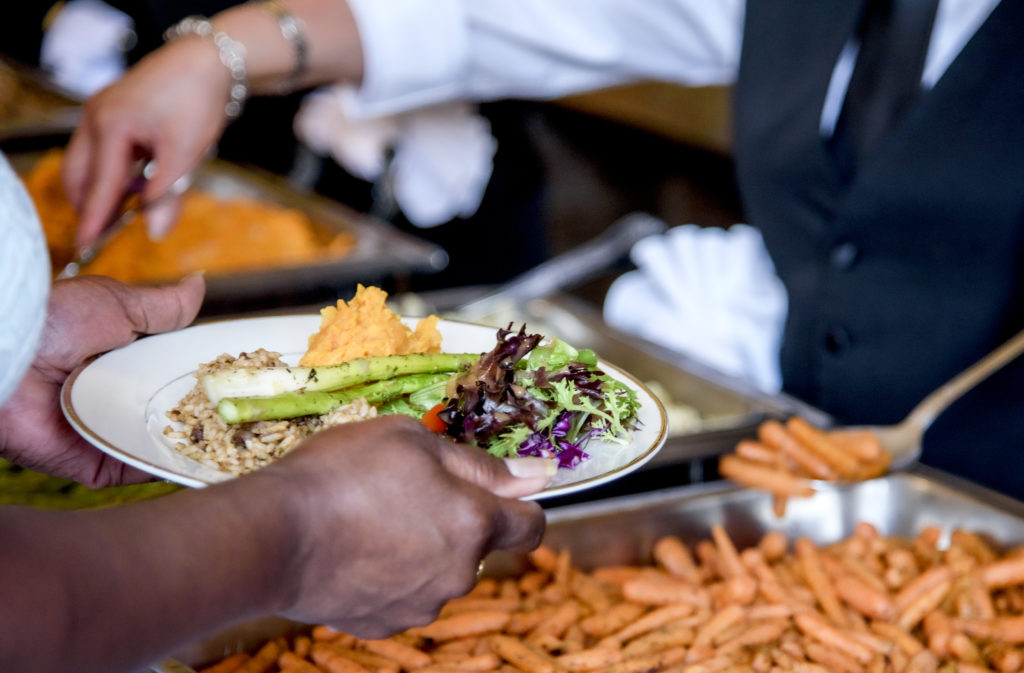 Work with an Experienced Caterer
Probably the most important tip of all is to choose a caterer who is experienced with accommodating allergies and special diets, and who you trust will be willing to go that extra mile.
Ask a LOT of questions during your initial consultation
How long have they been in business?
What is their protocol for accommodating any last-minute surprises?
Do they also educate their staff? Find out how they assure that their staff members are knowledgeable so you don't need to worry about accidental cross-contamination or other errors.
What are their initial recommendations on how to plan an allergy-friendly menu?
Do they require an extra charge for any of these services?
Match Your Caterer to Your Dietary Needs
Say you and your fiance are vegan. Well, then you will probably want to consider hiring a caterer who specializes in this type of cuisine. Caribbean Caterers, for example, got its start as a vegetarian restaurant. That definitely does not mean that all of the food is vegan! However, we are well-equipped to make alterations that will satisfy both vegans AND non-vegans.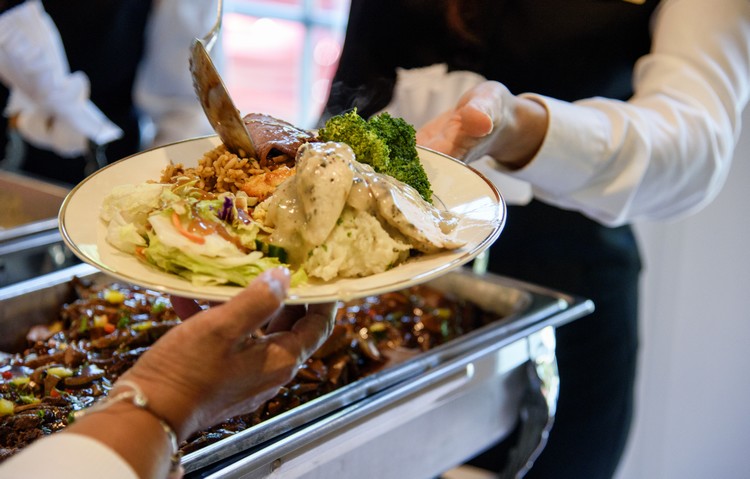 Start Planning
Once you have found the perfect caterer, you can begin to work together and plan a menu that is both delicious and safe for all of your guests. Think of the common allergens and restrictions, and make sure that each scenario will have at least a couple of options.
Label Everything
In order to make your guests comfortable, it's a good idea to label everything on the menu cards at the buffet. You can go as far as listing every ingredient, or you can alert folks to "the big ones" so they can choose confidentiality.
Don't Have Guests Serve Themselves
If you REALLY want to ensure food safety at your buffet, we recommend having servers serve up all of the food. At Caribbean Caterers, we have our professional servers serving guests for every single buffet. It helps eliminate cross-contaminations that can happen from mixing utensils, or even accidentally mixing different platters of foods together. Another added bonus – it keeps your buffet neat and tidy!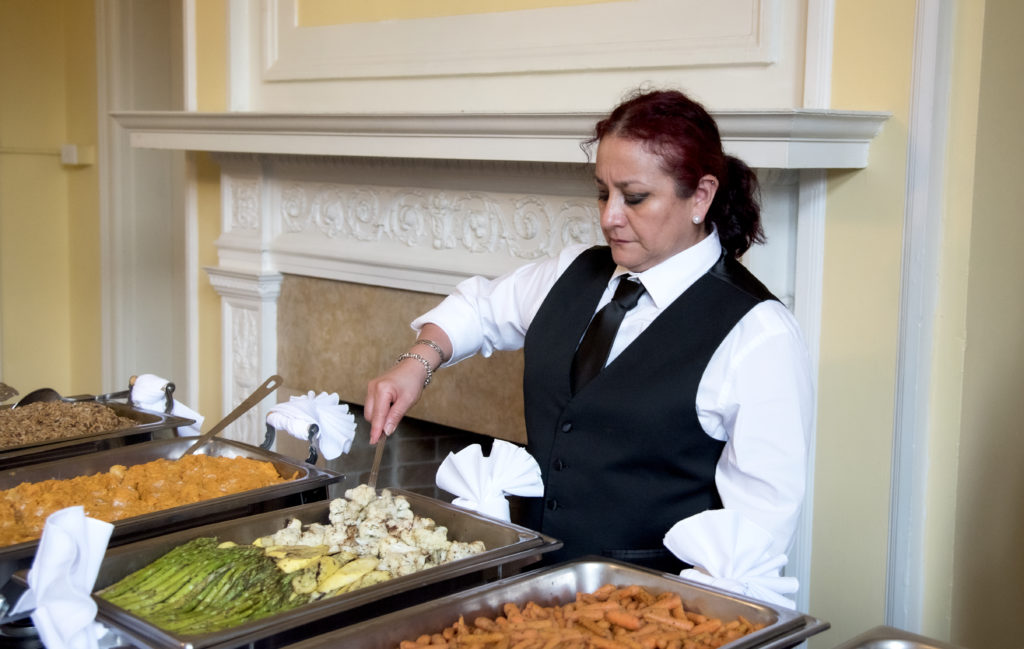 Consider Your Own Restrictions
If you are, say, a vegetarian with a gluten-intolerance, how do you want to handle your menu? You may not want to impose these restrictions on all of your guests… but it IS your wedding!
One option is to make sure that your menu includes a good percentage of your "safe foods," and then have your caterer alter only your plate for the reception. This way you will be able to try everything on your wedding day without restricting everyone else.
If you feel very strongly that you want to provide only foods that you would eat yourself (i.e. vegan, vegetarian or Kosher diets), then go for it! It's YOUR wedding day, so you pretty much make the rules.
Decide How Inclusive You Want to Be
You probably at least want to provide gluten-free, nut-free, vegan and vegetarian options for your guests. But what if, say, your fiance's aunt just alerted you to her seed intolerance, and your cousin is apparently allergic to soy and legumes? Also, the cake! The non-vegan, non-gluten-free cake… should you provide other options?
One simple way to be more inclusive is to put as much on the side as possible – salad dressing, nuts, sauces that contain fish sauce… you get the idea. You'd really only want to go this route for items that won't alter the final flavor by keeping them on the side.
Keep in mind that this is your wedding day, and the choice is ultimately up to you. Your best bet is to proactively discuss these situations with your caterer and come up with a plan that makes you feel comfortable. Remember when we told you to hire an experienced caterer?
Ready to Learn More?
We know how overwhelming it can be in the early stages of planning your wedding, and we're happy to answer any questions that you may have regarding dietary restrictions, or anything else wedding-related.
The very first step in the process of planning your dream wedding is to call us today for your free 10-minute initial consultation. At Caribbean Caterers, we are proud to say that we go above and beyond in order to make you and your guests feel comfortable on the most important day of your life. You can also check out our Reception Style Selector for additional articles on plated dinners, buffets, stations, and more.

Schedule your free 10 minute consultation.
The fastest way to get answers, no obligations, no strings attached.
Get started