Schedule your free 10 minute consultation.
The fastest way to get answers, no obligations, no strings attached.
Get started
If you are considering a buffet reception for your wedding, be forewarned – at least one well-meaning friend or family members will inevitably try and dissuade you. "What about those long lines? You don't want Grandma standing up all night waiting for her food, do you?"
Buffet receptions get a really bad rap for being disorganized, messy and chaotic, when the reality is that they should be anything but.  With the help of an experienced caterer, your buffet wedding can be just as elegant, orderly and sophisticated as any other reception style. 
We put together the following tips to show you how and why our team can typically serve up a buffet in about 35 minutes. Just like with everything else, it's all in the details. You can also feel free to use this information to school anyone who tries to caution you against buffets in the future!
Treat it (Almost) Like a Plated Dinner
Simply put, buffets are less formal than plated dinners.  That's probably one major reason why you are interested in having one.  But that doesn't mean they should be more casual behind the scenes.  If you want to avoid lines at your buffet, then your execution should be just as organized as it would be for a plated wedding dinner.  Organization equals control, and that can begin with a fully-seated buffet.  
We hate to break it to you, but even if you are having a laidback buffet wedding you're still going to want to create a seating chart.  Avoiding lines starts by clearly commanding the pack and giving direction, and this is much easier to do when everyone has a seat and knows where that seat is.  Having a fully-seated buffet reception isn't just a nice touch, it also hands you the reigns.
Another tip that doubles as a nice touch is to have menu cards at each place setting, so that the minute your guests get to their seats, they can begin to mentally choose what they want to eat. This is especially helpful for those with dietary restrictions and allergies, who might otherwise hover at the buffet, not sure how many more options they will have.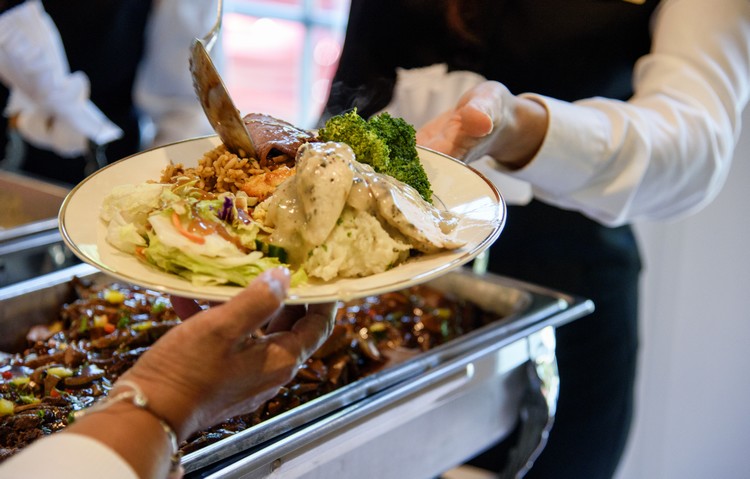 ---
Designate Someone to Personally Invite Each Table
What we're saying is don't use the DJ. Let the DJ stick to the music. Relying on your DJ to call tables not only becomes a distraction, but there will inevitably be people who only hear "The buffet is open" and will make a mad dash. Plus, the DJ can't necessarily even see what is going on at the buffet.
You need to have someone who knows how to finesse the timing. So many factors can affect how smooth your buffet runs and even a detail as small as knowing how long it will take for a table to walk to the buffet can make or break it. This is why we recommend that you have someone from the catering team personally invite one table at a time.
At Caribbean Caterers, our Banquet Captains invite tables up. They are trained and experienced enough to be warm and welcoming, but also know how to move things along. Whoever you use should call fast enough so that there is no lag between tables, but without making anyone feel rushed.
If you happen to have a very large wedding, you can have two buffet set-ups to keep things rolling. In this case, the catering team would direct two separate tables to the two separate buffets at one time.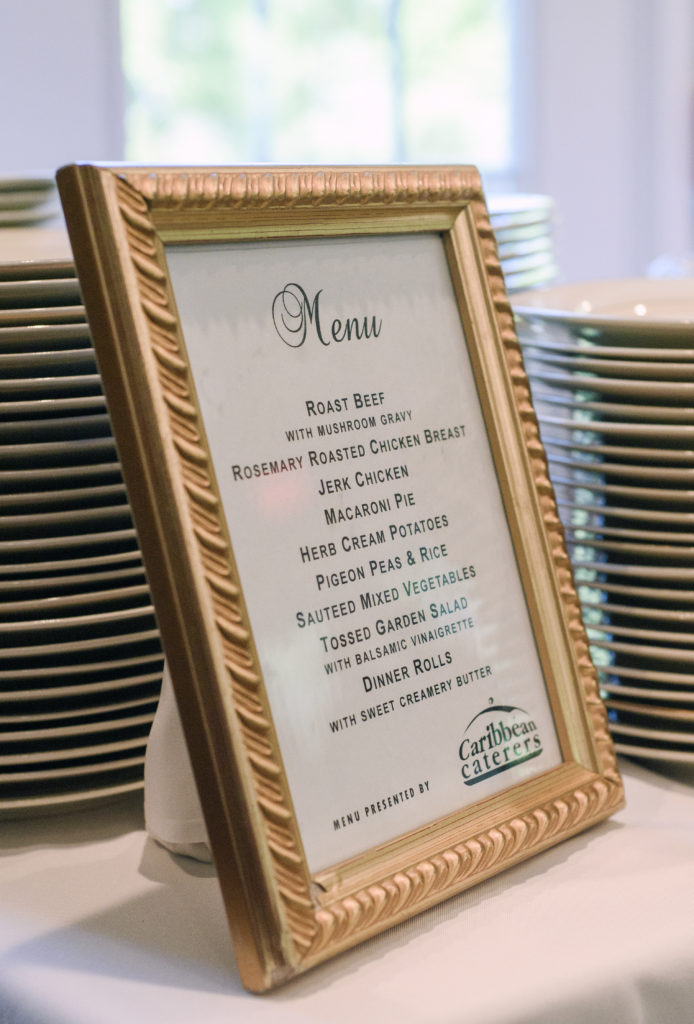 ---
Ditch the Self-Serve Buffet Lines
Last but certainly not least, if you want to avoid lines, you are going to want to make sure that your buffet is fully staffed with servers, and that no guests serve themselves.
The servers will play a couple of crucial roles to speed up the process. First of all, they help answer your guests' questions. Without servers, it is very common for guests to move slowly as they wonder to each other about what is in a particular dish, or if something is gluten-free or not. Even if you have detailed menu cards displayed, this will still happen. Guests appreciate someone telling them directly, "Yes, you are able to eat this if you have celiac" or "I'm sorry but unfortunately that does have dairy in it." Well-trained servers will know how to pleasantly, but quickly, answer questions and keep thinking rolling.
Secondly, servers can keep a watchful eye on food levels and proactively have chefs refill dishes well before they completely run out. Standstills in buffet lines are often caused by guests having to flag someone down to refill an empty dish.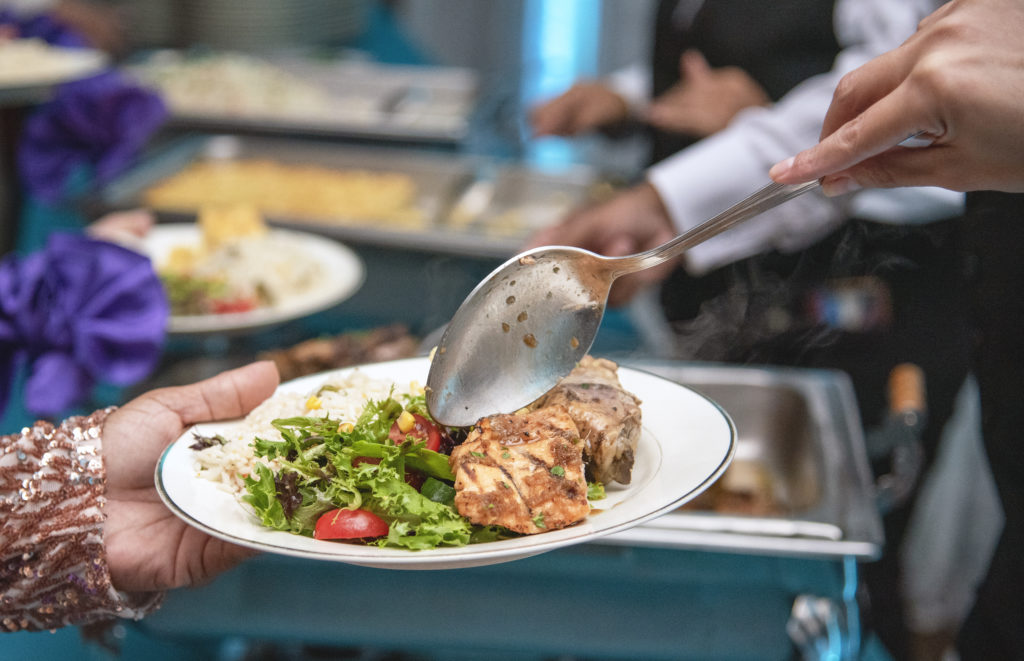 ---
Ready to Learn More?
Buffet receptions are the most popular reception style at Caribbean Caterers, and for good reason!  If you are looking to have a slightly less formal reception, buffets provide the best of both worlds – formally set tables, sophisticated service AND variety.  
For over 20 years, couples have trusted us to help bring their wedding visions to life. We can't wait to hear what you have in mind, so call us today for your free 10-minute initial consultation. We can help answer any other questions you may have regarding buffet receptions, or anything else wedding-related.
RELATED ARTICLE: How to Choose Your Perfect Wedding Buffet Menu
You can also check out our Reception Style Selector for additional articles on plated dinners, buffets, stations and more.
Schedule your free 10 minute consultation.
The fastest way to get answers, no obligations, no strings attached.
Get started