Schedule your free 10 minute consultation.
The fastest way to get answers, no obligations, no strings attached.
Get started
It's safe to say that a universal truth among engaged couples these days is that they want their wedding celebration to be memorable. Brides and Grooms want to plan new ways to surprise and enchant their guests, but during the initial planning stages it can become easy to get sidetracked with a thousand different pie-in-the-sky ideas. Before you know it, you're burnt out, stressed and way over budget.
Enter the micro wedding – the new hero of the 2020 wedding world.  Whether your wedding planning journey has just begun, or you are in full-on freak out mode, we suggest you take a deep breath and keep reading as we give you the rundown on this increasingly popular option.
What is a Micro Wedding?
A micro wedding is a style of wedding that has all of the beauty, charm and glamour of a traditional wedding, and incorporates many of the key elements, but has a smaller guest list of 50 people or less.  Typically, micro weddings also have shorter ceremonies, more flexible formats and an abundance of personal touches.
Micro Wedding vs Minimony vs Elopement
During your research into small, intimate wedding options, you are apt to come across three main styles: micro weddings, minimonies and elopements.  Each type can be as simplistic or extravagant as you want, and ultimately, your decision should come down to what you and your fiance decide fits best with your vision.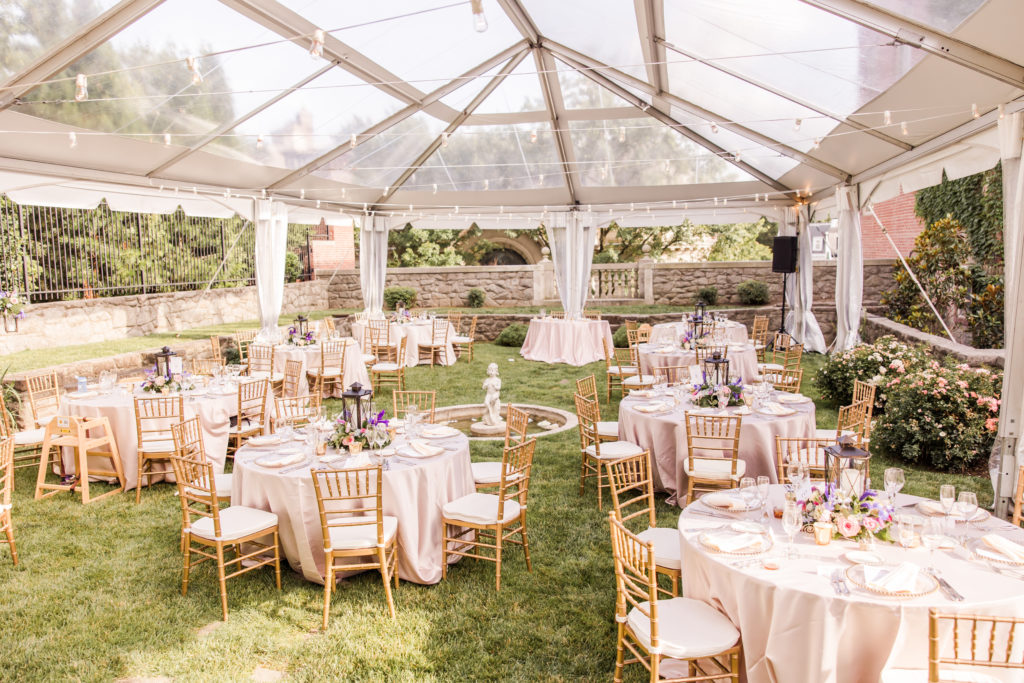 ---
In order to help clarify the main differences here is a brief synopsis of each:
Microweddings: While all three are small in size, the micro wedding is the type that looks most like a larger wedding.  There is usually a ceremony and reception, invitations, food and drinks served at tables, entertainment, décor, flowers, etc., just with a smaller guest list of 50 people or fewer. 
Minimony – A minimony is a beautiful solution for the couple who eventually plan to have that large wedding, but aren't able to have it right now, due to the Covid-19 pandemic or a number of other reasons.  A minimony is more of a commitment ceremony, shared with just a handful of family and friends, to hold you over until the real deal.  It may include aspects of a traditional wedding, but is by no means a full ceremony.  A minimony is then followed up with a "sequel" wedding celebration, at a time more conducive to having that full-scale dream wedding.
Elopement – An elopement has traditionally been a spontaneous, improvised and often secret occasion celebrated by just the couple, or perhaps the couple and a few guests or witnesses.  Elopements have seen a trend upwards, though, and Brides and Grooms now have the opportunity to choose from all sorts of elopement packages and "experiences" if they desire.  An elopement package might include the venue, officiant, flowers, planning assistance and food for two.  This highly intimate wedding day looks the least like a larger wedding, often because there are no guests present at the ceremony!
Why Are Couples Opting For a Micro Wedding in 2020?
If you have attended any weddings over the past decade, you've probably noticed that there has been a trend towards hyper-personalized weddings. Hand-painted menu cards, wedding hashtags, hand-calligraphed invitations and interactive food and drink are all examples of custom details that have even found their way into traditional receptions.
But, bigger is not always better.  With many Brides and Grooms prioritizing quality over quantity, it's no wonder that the micro wedding trend has taken off.  It's easy to dream of all of the extra luxurious details and ideas that you would love for your special day – the custom wedding cake, restaurant style multi-course food and drink menu, tables filled with extravagant florals and so on.  However, with a large guest count these wedding ideas can really wreak havoc on your budget, and your sanity.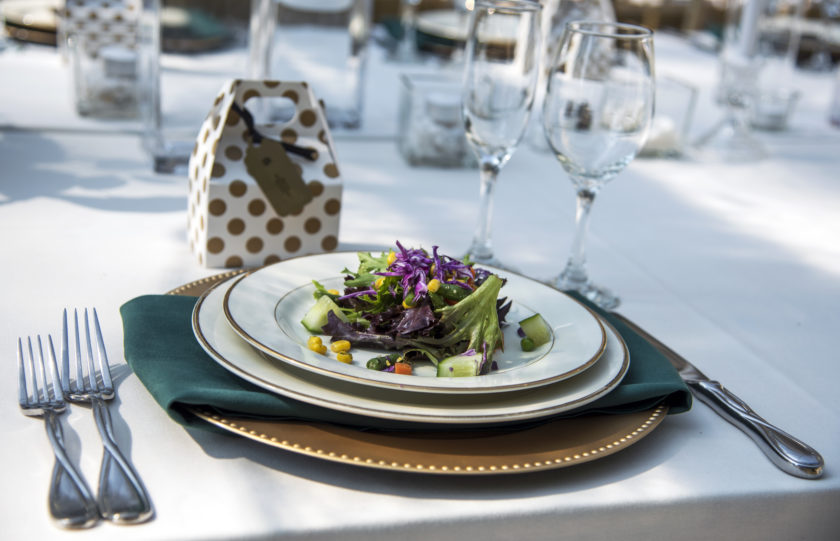 ---
Instead, many Brides and Grooms are taking what they would have spent on a wedding for 150 guests and splitting that budget between 50 guests (or less) so that they can provide an even more lavish experience for each person. The extra pampering might come in the form of prepaid hotel rooms, welcome baskets or fine wine pairings during the meal, just to name a few.
Other pros of the micro wedding trend include:
A more intimate celebration with family and your closest friends
A whole new world of venue possibilities
Splurging on details that matter most to you
Lots of opportunities to work special touches into every little detail and spoil your guests
The Future of Weddings During COVID-19
Another huge factor in the micro wedding trend of 2020 is the elephant in the room: coronavirus.  Suddenly, large, social group gatherings are officially a faux pas.  In this age of social distancing, many couples are asking themselves if it is socially acceptable, or even possible, to have that 200 person big wedding of their dreams.  When will guests be ready, willing and able to travel, or gather in large groups in enclosed spaces?  When will they feel comfortable greeting each other?
All signs point to "small" being the future of weddings well into 2021.  Micro weddings naturally fit into the guidelines of social distancing during this coronavirus pandemic and make it much easier to plan the best solution to make sure guests feel comfortable and safe enough to truly enjoy themselves.
What Does a Micro Wedding Ceremony Look Like?
A micro wedding ceremony is usually very brief – often 30 minutes or less.  Otherwise, there are no real rules regarding attire, wedding party members or timelines as you tie the knot.  Since these mini weddings are fairly new to the scene, couples can really treat it like a blank canvas.
Maybe there is a wedding party, or maybe not.  Maybe the ceremony starts at 7p.m., or perhaps you want to have a morning wedding.  Since you can squeeze a micro wedding into tight spaces, ceremony locations are often non-traditional and run the gamut from rustic outdoor to luxury penthouse, or even your own home.  Use your imagination!
What Does a Micro Wedding Reception Look Like?
On paper, a micro wedding reception looks a whole lot like a traditional plated dinner reception.  You're still going to want food, drinks, décor, top notch service, entertainment, photography … you get the idea.  
In fact, every element of a micro wedding may feel familiar, just done slightly differently.  Couples have the flexibility and freedom to look at things differently and carve their own path with new ideas, opening up the door for many more custom options.  With more money per guest to play with, and less guests to please, Brides and Grooms can splurge on whatever floats their boat, skipping the parts that they honestly don't care about.  Remember, it's your party!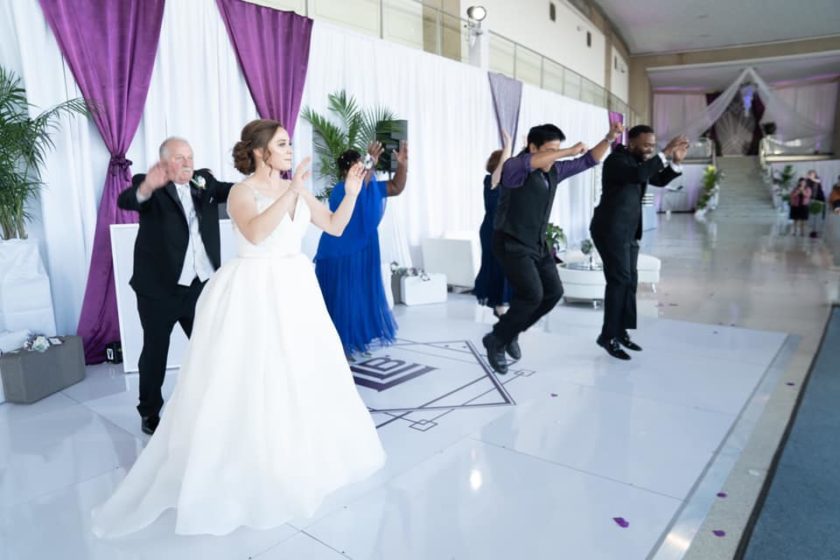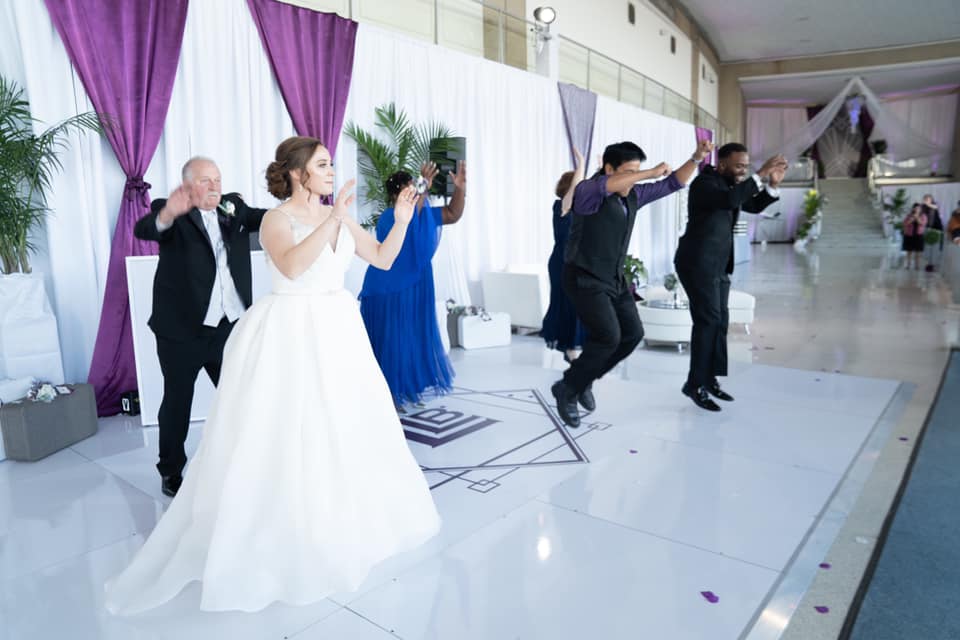 ---
More Micro Wedding Ideas
Think of what you can plan for 20 guests vs 200 guests and you are well on your way of knowing what you need to know about having a micro wedding.  You have the opportunity to create your own expectations, and personalize your ideas like crazy.
With just 10% of the guest count, you will also have the chance to really splurge on what truly matters to you and your fiance.  Want to serve an elaborate tasting menu?  How about hiring a band, instead of just a DJ?  You can be as creative, extravagant or simplistic with your micro wedding ideas as you want to be.
Some couples are coming up with innovative ideas to make the celebration last. Gillian de Souza, owner of Caribbean Caterers in Washington, D.C., said this of a recent luxury backyard wedding: "One of our couples used the money they would have spent on a venue to landscape their backyard – a permanent feature for them to enjoy, while also increasing the value of their home!"
Speaking of venues, another reason to love micro weddings is that they can fit into a wide array of alternative nooks and crannies – historic buildings, secluded countryside retreats, Airbnb and Vrbo rentals, luxury commons rooms in your high rise and yes, even right in your own backyard.  
Keep in mind that small does not equal simple, and having a planner is still highly recommended for any micro luxury wedding.  Hiring experienced wedding planners will help save you stress, mistakes and money.  For example, D'Souza went on to say this:  "With a backyard wedding, no other wedding will be like yours.  It takes a little more planning because none of your vendors will be familiar with your home like they would be familiar with other venues.  But the benefits far outweigh the drawbacks.  Plus, we are able to do more things than a typical venue's restrictions will allow."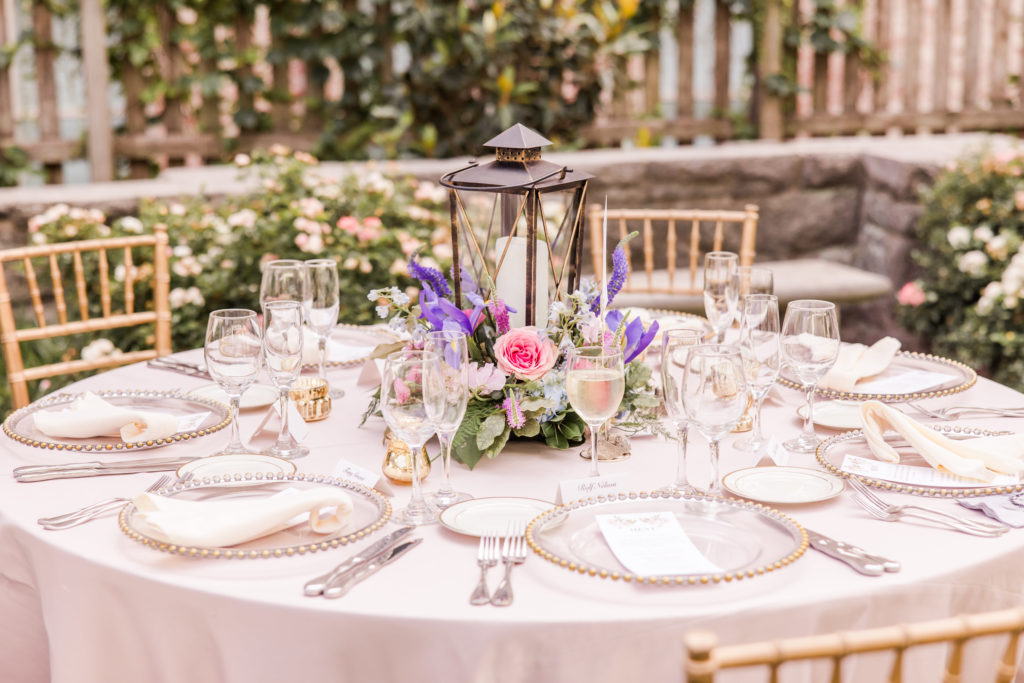 ---
What About Those Who Don't Make the Cut?
Gone, but definitely not forgotten! There are plenty of ideas to recognize and virtually celebrate with those who aren't able to physically attend the ceremony. You can allocate some of the money that you will be saving in the head count, for example, to plan and send a wedding gift box, complete with invitations, a personalized toast glass, a slice of cake and a Zoom link to livestream the party. Your loved ones will be there in spirit!
What Does a Micro Luxury Wedding Cost?
For a fully-custom luxury micro wedding, you can expect to budget about $150-200 per person.  This includes catering, staffing, set-up, breakdown and rental equipment, but keep in mind this does not include other wedding vendors such as your wedding planner, florist, DJ/band,  officiant or photography.
Micro Wedding Packages
Micro wedding packages are an attractive option because they take a lot of the guesswork out of basic planning decisions, but still allow for major customization.  Some luxury catering companies, such as Caribbean Caterers in D.C., have begun to offer base prices for micro wedding packages, often with luxury add-ons.  It is really only a matter of time before packages like this really take off in popularity.  
If your wedding ideas are more simple and straightforward, rather than completely custom, there are now hotels, country clubs and private venues that will offer a flat fee package with an additional amount per guest if it exceeds their flat rate guest count. For example, the package may be for 16 guests, and then each additional guest is $75 more.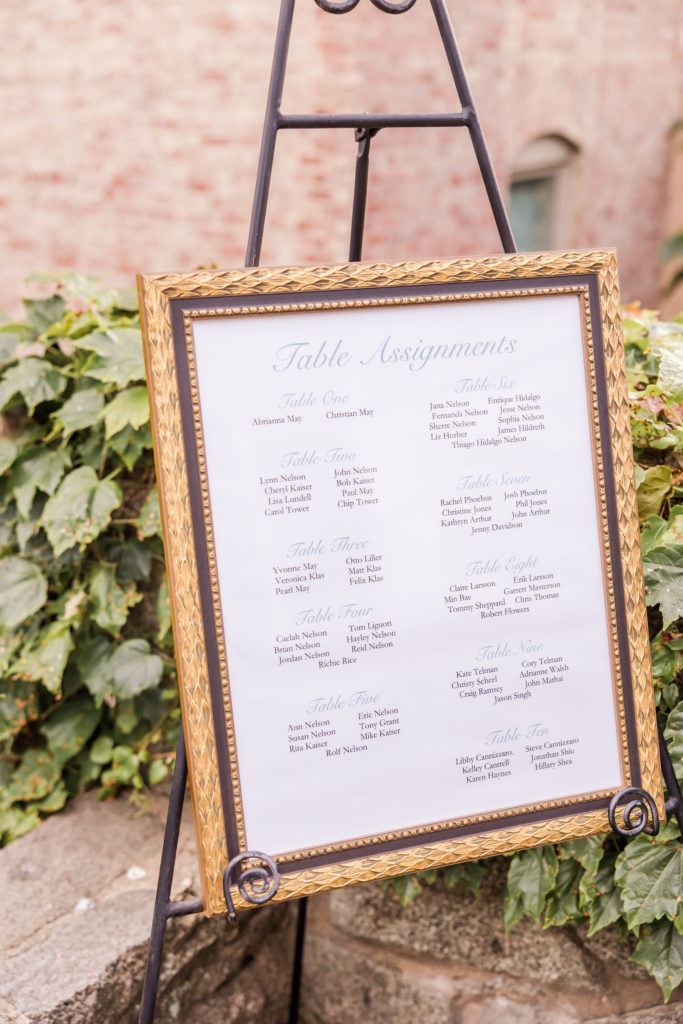 ---
Micro Wedding vs Microwedding vs Micro-Wedding
Wedding terminology can be a bit funny.  Terms one vendor may use could mean something completely different to someone else.  And since the concept of micro weddings is fairly new territory, with that comes a slew of new terms and spellings.  
Luckily, we can help break it down very easily: micro wedding, micro-wedding and microwedding all mean the exact same thing.  They all refer to intimate wedding celebrations with 50 guests or less.  No one has quite settled on a universal term, so you will tend to see these all used interchangeably.
Pioneering a New Style of Wedding
Couples in 2020 have the rare option to pioneer a completely new style of wedding. Instead of wallowing in what could have been, our advice is to get creative and get excited! You don't need to forfeit the chance to celebrate simply because you may not be able to stick to your original wedding plans. Make new plans instead!
If you are ready for something different for your 2020 wedding, planning a micro wedding just may be the perfect way to commemorate your new beginning with only your nearest and dearest.  You can, quite literally, have the beautiful cake of your dreams, and eat it too!
Schedule your free 10 minute consultation.
The fastest way to get answers, no obligations, no strings attached.
Get started