Schedule your free 10 minute consultation.
The fastest way to get answers, no obligations, no strings attached.
Get started
One of the first decisions that you will need to make as you begin to plan your wedding is how you want to feed your guests.  Lots of the couples we work with tell us that they prefer a slightly less formal atmosphere than a plated reception, and want to have more variety in their menu, but they still want that classy, elegant "look" that you expect from a plated reception.
For this reason, the two reception styles that have become increasingly popular are family-style and buffets.  What's not to love? You get the benefit of variety, you don't need to keep track of entree selections AND guests can be fully-seated at tables that have been formally-set with linen, china, flatware and glassware.  It's a win-win!
So the big question is, how do you choose between a family-style vs. buffet wedding reception?  To get you started, we've put together these pros and cons to highlight the main differences. Keep in mind that what may be a pro for one person could be a major con for you and your fiance.  Feel free to make your own pros and cons list using this info to decide which reception will ultimately be the best choice for you and your guests.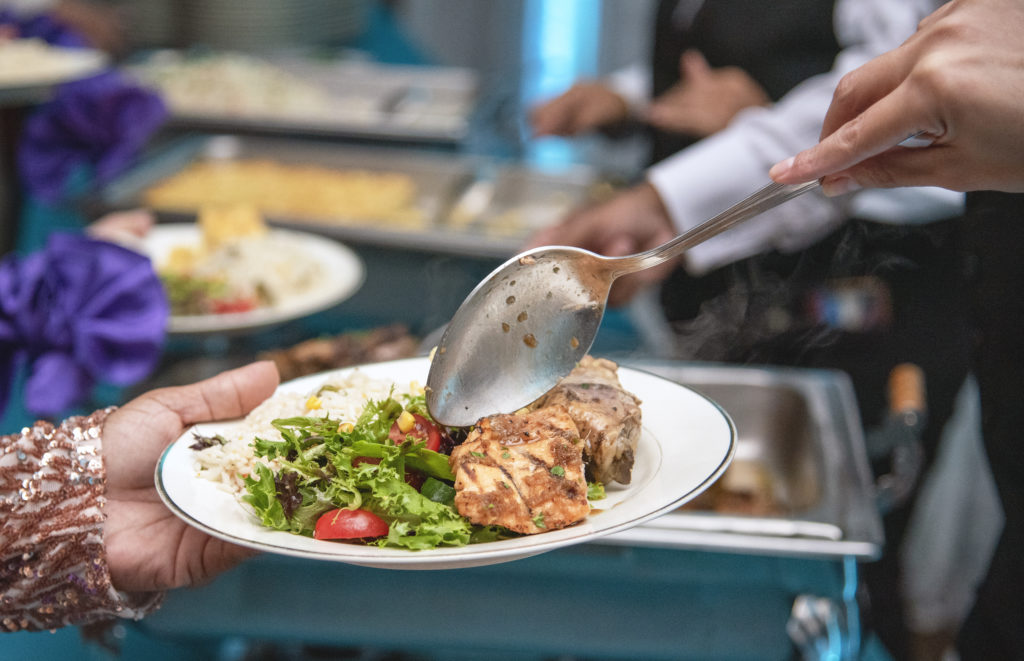 ---
Family-Style Service – What is it?
Family-style service is when beautifully garnished platters of food are set in the center of each table by servers, and your guests pass the platters around, choosing what they would like to eat without ever leaving the table.
Pros of Family-Style
More intimate. Passing food around to each other naturally encourages more fellowship between the guests at each of your tables. Even if they don't know everyone at their table, a feeling of camaraderie just seems to grow out of sharing food together. If this is the tone that you want to set, family-style is hard to beat.
Everyone eats at the same time.  Just like with a plated dinner, during a family-style reception all of your guests are served at the same time, adding to that intimate feeling of "togetherness."  You may also prefer this, as opposed to a buffet where eating is staggered slightly, for it's efficiency and lack of people walking around while others are eating.
Symbolic. Many Brides and Grooms like the symbolism of a family-style meal. It's hard to miss the feeling that two families are truly becoming one when you are passing platters around and celebrating with friends, family and strangers alike.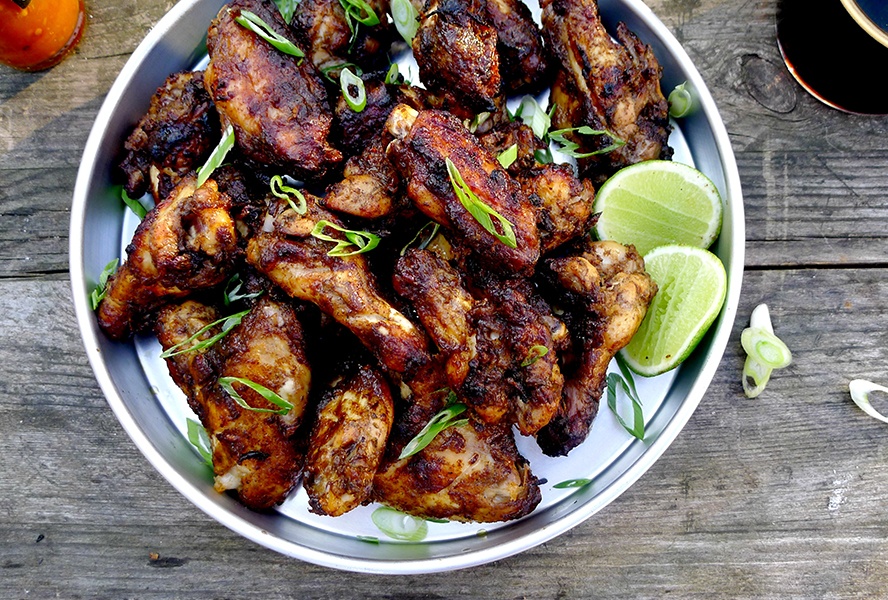 ---
Cons of Family-Style
You're going to need larger tables. Platters will take up a lot of the space that might otherwise have been used for your centerpieces and decor, so you'll need to either cut way down on those, or you'll need to rent larger tables (i.e. added cost).
You'll need an A-Team waitstaff. This is not necessarily a con, but definitely a precaution as family-style service can become disorganized without a reliable and professionally trained waitstaff to ensure that empty platters are cleared, spills are quickly cleaned up and no table runs out of food. You can't precisely predict how much each guest will eat of each dish on your menu, but a good caterer will make sure that no matter what, you won't run out of anything.
You have to be careful which platters you choose. Guests will need to be able to lift a full platter with just one hand, meaning those beautiful, antique serving dishes that your Grandmother gave you to use at your wedding probably aren't going to work as well as they would on a buffet.
Buffet Service – What is it?
A buffet style reception is one in which all food is served from a designated area, and guests make their way up to the buffet to choose from any of the dishes that they would like.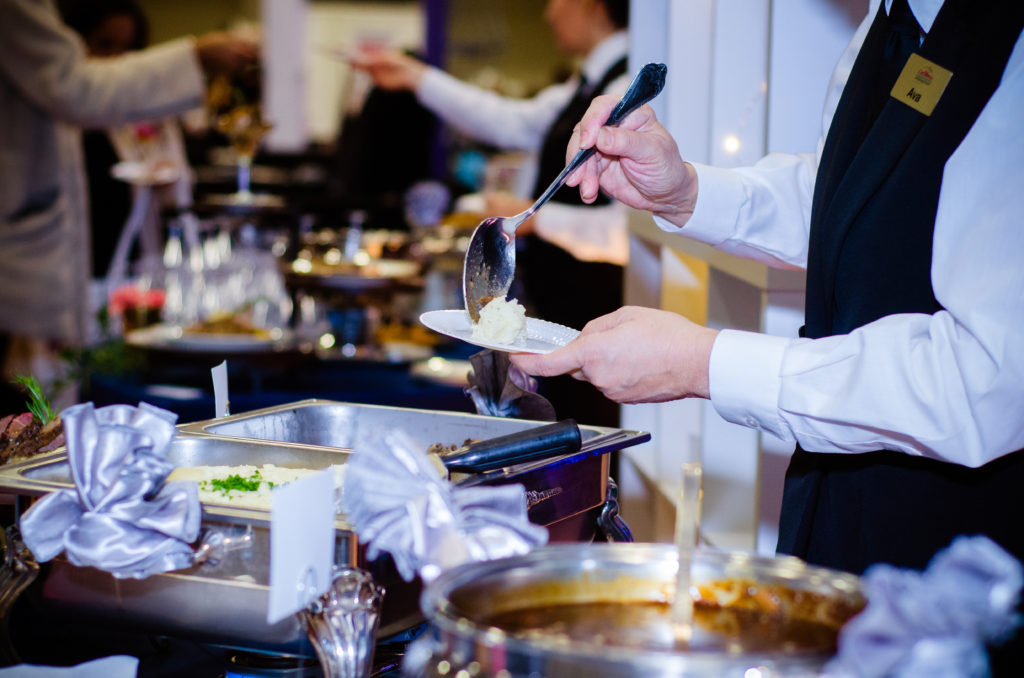 ---
Pros of Buffets
Generally less expensive.  When comparing the prices of a buffet vs. a family-style reception with similar menus, buffets tend to be slightly less expensive.  Most often, they don't require as much staff, china or flatware.
Give the most control over accommodating food allergies.  While both family-style and buffet receptions allow you to choose a wide variety of foods to accommodate many different food allergies and dietary restrictions, buffets give you the potential for more control, as long as you have servers at your buffet.  All of Caribbean Caterers' buffet receptions work this way, so that no guest ever serves themselves. This avoids accidental cross-contamination and provides staff for guests to ask directly about any ingredient concerns they may have.
More casual. Buffets are the more casual of the two and guests are much more apt to mingle with other tables as they move around to get their food from the buffet, or if they decide to go up for seconds. A good caterer will maintain a quick and even flow of guests to and from the buffet in order to prevent long lines from forming, meaning you can have that elegant, organized and sophisticated reception while still keeping things a little more casual.
Cons of Buffets
Guests have to walk to the buffet. There's no way around this one, so if you don't like the idea of guests being up and about with plates of food in their hands, you may want to go with family-style for your wedding. A good caterer will always serve the head table full-service style, unless they wish to join their guests at the buffet, so that is something to keep in mind and discuss.
The more guests, the more buffet tables. When you need to have more than 1 buffet set-up (our rule of thumb is for guest counts over 150), you need to keep in mind that means more tables, with more equipment, more decor, more food, more staff and more space that you're taking up.
Without an experienced caterer, things can get ugly.  We've heard horror stories of disorderly, messy and downright gross buffet receptions.  You'll likely come across some of these too, either online or from friends and family. Ask us how we avoid common complaints about buffets, or feel free to read our article that details the Caribbean Caterers difference.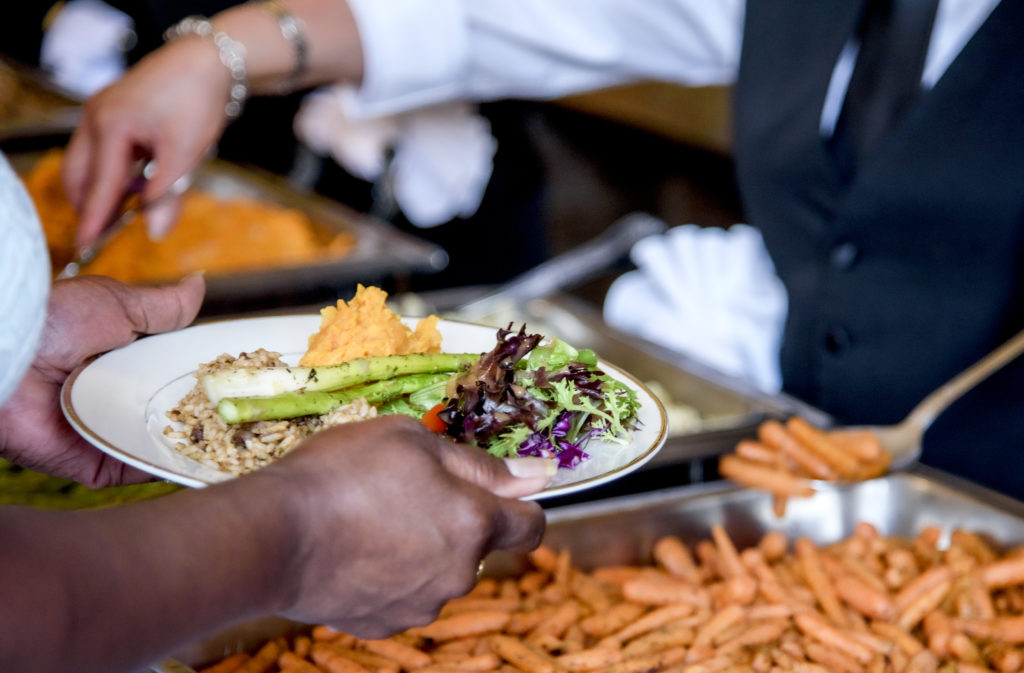 ---
Have More Questions?
We're here to help!  Now is the perfect time to schedule your free 10-minutes phone consultation with one of our experienced event coordinators.  Working with couples to craft their perfectly unique and elegant (but never stuffy!) wedding receptions is our passion.
You can also follow these links for more detailed summaries of some of the other reception styles that we offer:
Schedule your free 10 minute consultation.
The fastest way to get answers, no obligations, no strings attached.
Get started