Schedule your free 10 minute consultation.
The fastest way to get answers, no obligations, no strings attached.
Get started
Now that you are engaged and officially in wedding-planning mode, one of the first decisions you will need to make is not just what your guests are going to eat, but how.  
One of the most common questions we hear from newly-engaged couples is What are the pros and cons of a buffet vs. plated wedding reception? A quick search online is sure to reveal horror stories of messy, disorganized buffet lines, or mundane and lifeless plated dinner receptions. While there are benefits and disadvantages to both styles, don't believe the hype. The choice between a buffet vs. plated wedding should truly come down to how you envision your special day, and an experienced caterer can help you navigate the differences.
We've put together this brief synopsis to cut through some of the misinformation so that you can get right to it and make the choice that is right for you and your guests.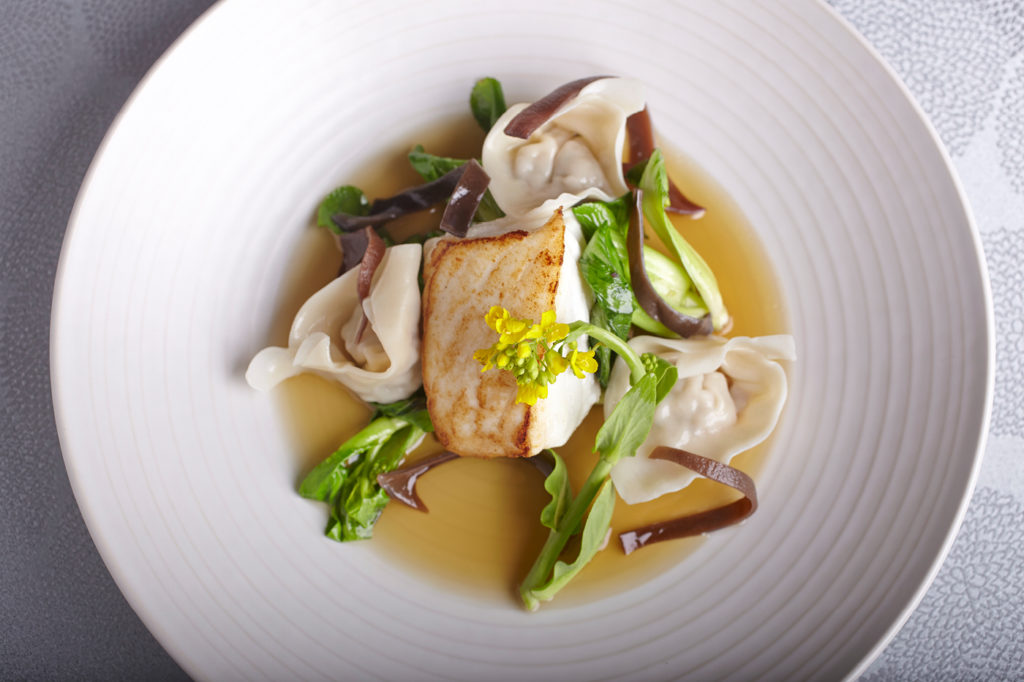 Buffet Service
More Casual
Our buffet service is fully-seated, with a designated buffet area where food is displayed and guests are invited up to be served as much or as little of each menu item as they like. We always treat the head table as full-service, but all other guests will need to walk to the buffet, so you will want to factor in the level of formality you are looking for when determining the best fit for your wedding.
Variety
The biggest benefit of a buffet is variety. Guests are able to pick and choose exactly what they would like, and how much.
Having more variety with flexible portions will undoubtedly increase the amount of food that you will need to provide, compared with a plated dinner, as we know you will want your buffet to look just as beautiful for the last guests served as for the first. Our Chefs will also replenish the buffet after the last guest is served so seconds are available for more munching on the great menu choices you've made. With us, you will never have to worry about running out of food. In fact, we view it as a mortal sin! But you don't want excessive waste, either, so our catering team will work with you to strike a good balance.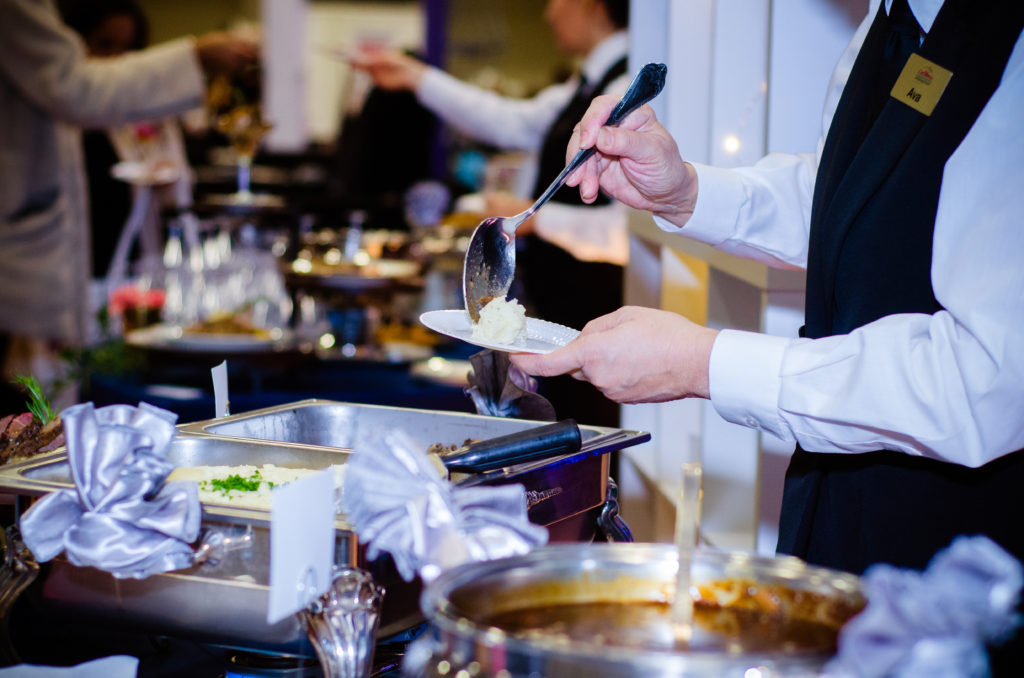 Make it Unique
You can really have fun with your buffet displays and include more interactive elements, such as carving stations, or food bars, like a grilled seafood display. There are endless options when it comes to unique vessels, serveware, stands, trays, etc, that can make your buffet downright stunning.
Don't be scared off by what people may try to tell you about outrageous lines and messy tables. Buffet service can absolutely be fresh, stylish, interactive, delicious and organized. This is where it really comes down to your caterer, so be sure to ask questions about how they plan to alleviate these common complaints. Ask us how we do it!
Plated Dinner
Elegant …
A plated dinner reception is the most classically elegant dinner service style. Nothing is as luxurious as beautifully plated food served directly to your guests.
Everyone is seated and served at roughly the same time in a choreographed, organized manner. This allows for your entire party to enjoy entertainment like speeches, toasts and the first dance – something a guest might otherwise miss if they were at the buffet grabbing a plate of food.
Creating this smooth and streamlined service style does require quite a bit more planning than a buffet, but don't let that deter you. We can walk you through everything you'll need to know to keep your plated reception flawless.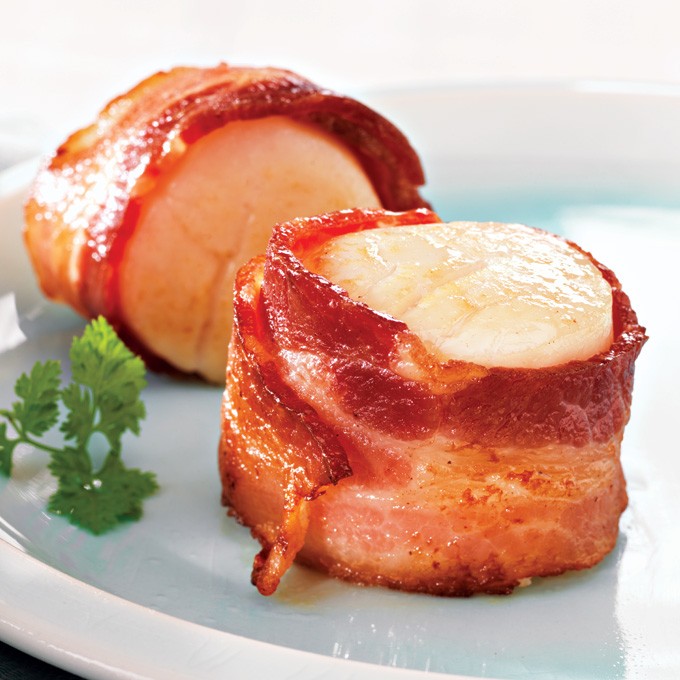 … But Not Stuffy!
Even if your wedding is a black-tie, ultra-formal affair, there are plenty of ways to keep things fun. Add a punch of color to your table décor, create fun name cards at your place settings, or simply choose a unique and delicious menu so that no guest will be able to say that the food was forgettable!
This style does not lend itself to as much variety as a buffet, however it is very common to give guests a choice of entree which provides a bit of variety as well as more options for those with dietary restrictions.
It is also common to have a single or dual entree, rather than a choice, which eliminates some of the planning required with polling guests and managing a seating chart. No matter what, our catering coordinators will help you choose entrees keeping careful consideration of the needs of your guests.
Budget Considerations
The cost of a buffet vs. plated wedding depends on many different factors – one is not always more or less expensive than the other as they each have elements that can increase or decrease the price depending on what is most important to you.
Typically, a plated dinner will be about 20% more expensive than a buffet with a similar menu, but there are three main elements to consider, especially when you are comparing catering price options.
Menu Costs
A plated menu will usually require less food items and smaller quantities, simply because you can accurately estimate how much each guest will eat. An exception might be couples who choose to go beyond 3-4 courses, or pick the most extravagant entrees.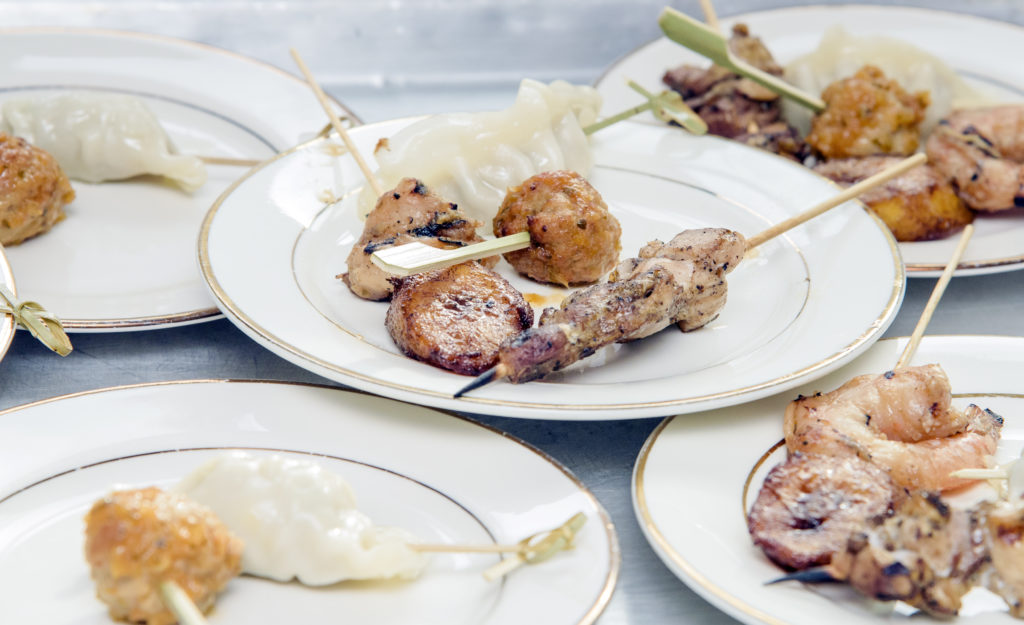 Staffing Costs
Because of the nature of a plated dinner, your staffing costs will be higher than with a buffet. You can figure about 1 server per 10 guests for a plated dinner and 1 server for 20 guests for a buffet.
Equipment and Décor Costs
Décor items that are stylish, yet not absolutely necessary, can increase the cost of either a buffet or plated dinner. For example, many couples that have a buffet choose to add chargers. While chargers are not necessary for a buffet, they improve the look of the place settings which may be a key factor for the couple.
Also, the style of linen, china, flatware, etc. that you choose plays a major factor in the overall cost of your event. There can be a profuse price difference between everything from napkins to water glasses. To keep control on this cost, your caterer should have a base equipment package to offer you. You can build on it as you choose.
Have More Questions?
Now would be the perfect time to schedule your free 10-minute phone consultation with one of our experienced event coordinators. We would love to help you discover which is going to be the perfect fit for your special day, and answer any other questions you may have.

You can also check out our Reception Style Selector for more detailed summaries on plated dinners, buffets, and more.
Schedule your free 10 minute consultation.
The fastest way to get answers, no obligations, no strings attached.
Get started