Schedule your free 10 minute consultation.
The fastest way to get answers, no obligations, no strings attached.
Get started
If you are looking to maintain some of the class and elegance that comes with a plated dinner, but want a slightly less formal vibe, with great variety and a little more freedom, a buffet style wedding may be just perfect for you.
By definition, a buffet style wedding simply means that the meal is served from designated areas and guests are invited up to the buffet to be served an assortment of elegantly arranged dishes from a pre-set menu.   But, there is a lot of misconception about buffets, and horror stories that circulate about sloppy, disorganized messes, that may make you wonder "how exactly will a buffet work with my vision for an elegant, classy wedding?"  
Discouraged Brides and Grooms, this article is for you!  We have detailed a few of the main characteristics that should define every buffet style wedding to hopefully give you a broader overview of this fabulous wedding reception style.
Extremely Popular
Buffet style weddings are officially trending, and at Caribbean Caterers, they are our most popular style of wedding reception, by far.  There are a couple of main reason for this:
Variety
There is no match for the variety that you can have with a buffet. Your guests won't be locked into an entree that those chose months ago, or pre-plated portion sizes. They are free to choose from a number of dishes – as much or as little as they like.
It's also much easier to create an inclusive menu, friendly to all of your vegan-with-a-gluten-intolerance friends and nut-allergy family members. There will always be something for everyone.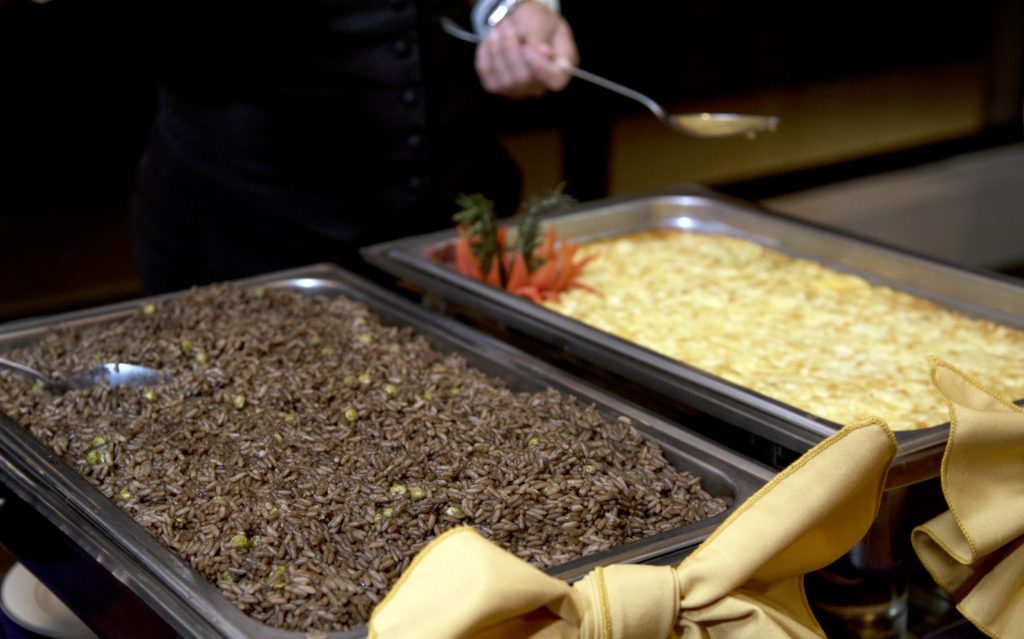 Less Expensive
Typically, a buffet reception will be less expensive than either plated or family style receptions with a similar menu.  The beauty of a buffet style wedding is that your reception can still have many of the elegant, classy elements that would be found with a plated reception… just at a lower price.
Simply Elegant
A buffet style wedding has all of the key ingredients to make for a simply elegant, classy and sophisticated reception – full seatings, formal place settings, striking table décor, delicious food and service that is on-point.  
However, if you have done any amount of research on this style of reception, you are probably aware that there are common complaints:
"Aren't they tacky?"
"I'm scared of those long lines."
"Gross, people grab food with their fingers!"
"There is so much waste."
"They are too messy."
Once more for the people in the back… buffet wedding receptions don't need to be gross, tacky or chaotic!  A professionally catered buffet reception should be just as organized and orderly behind the scenes as any other service style.  
Do these horror stories happen? You bet, but they are all absolutely avoidable. As long as you work with the right caterer, your wedding reception will be elegant, orderly and sophisticated. The catering team you choose to work with will have a great impact on the outcome of your event, so be sure to ask questions and choose wisely!
At Caribbean Caterers we consider ourselves experts when it comes to wedding buffet catering.  We put together this article to explain how we address these common complaints and bring sophistication, order, and class back to the buffet table.  Buffets are our most popular wedding reception style for a reason!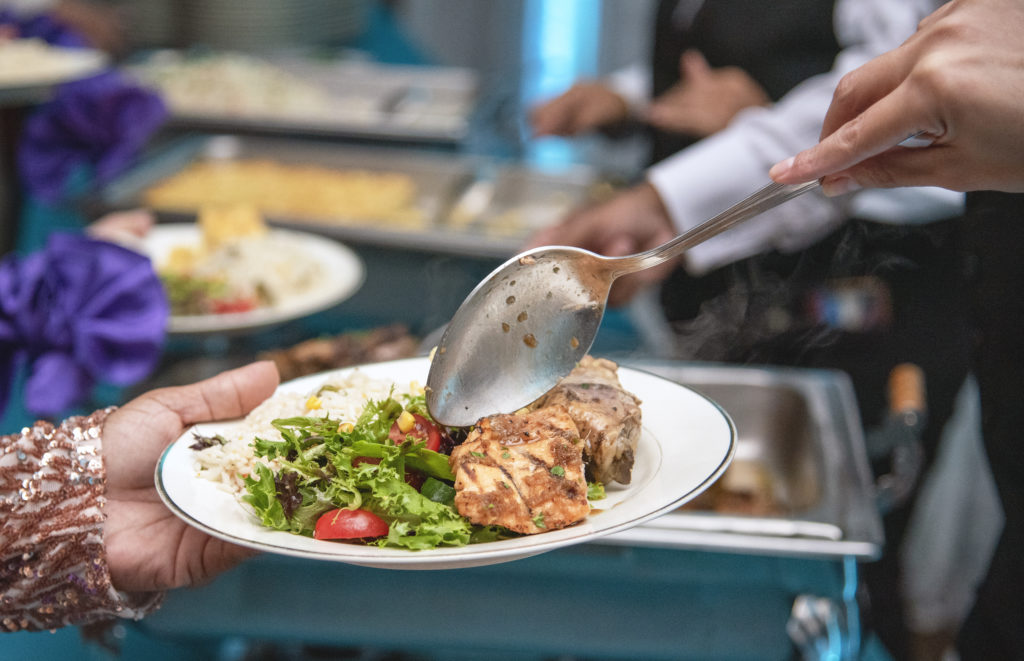 Increased Social Interaction
Buffet style weddings tend to have a slightly more laissez faire feel, since guests aren't stuck at their seat, all eating the exact same thing.  This less formal vibe often leads to more social interaction between all of your guests, both at the buffet and at individual tables.  
To and From the Buffet. Even if your reception is fully-seated (and many of them are), your guests will still need to walk to and from the buffet to gather their meal once their table is called – perhaps twice to go get seconds! A good caterer will keep the buffet lines moving quickly, so this doesn't necessarily mean there will be long chats in line, but even just stepping away from your table, giving a wave to Grandma, or the childhood friend who you haven't seen in a while, can give more of a communal feeling.
At the Tables. Some caterers will provide menu cards so that guests who have yet to get their meals can mentally plan ahead. This will often become a conversation piece, especially because many couples choose to create a theme for the food, and incorporate personal dishes into their menu (cultural favorites, dishes from their favorite restaurant, etc).
Freedom to Mingle. The freedom for guests to mosey around and socialize with other tables is much more apt to happen since everyone isn't being served at the exact same time. For a variety of reasons, some couples still prefer to assign seats at a buffet. However, with no assigned entrees, you won't need to stress over guests who ignore their seating assignment. Sure, it can be annoying, but it shouldn't ruin the flow of service.
Authentically You
Speaking of freedom, buffets offer a lot of space for you and your fiance to incorporate your own selves into both the food AND the buffet table.
Buffet Food. When planning your perfect buffet style wedding menu, consider adding personal touches to celebrate each other and your relationship. Some couples like to honor their own individual cultures by serving dishes specific to them. Or maybe you love to eat out together, or you want to remember that amazing Italian vacation that you took… it's all possible.
Buffet Decor. You aren't confined to just the tables for the meal or for your decor, and you can extend your tablescape decor as creatively as you would like. Some areas to get creative with buffet decor include custom serving platters, themed props, framed menu signs for the buffet, and even more florals. If you choose to add some personalized dishes to your menu, consider extending the theme via menu cards, props, etc.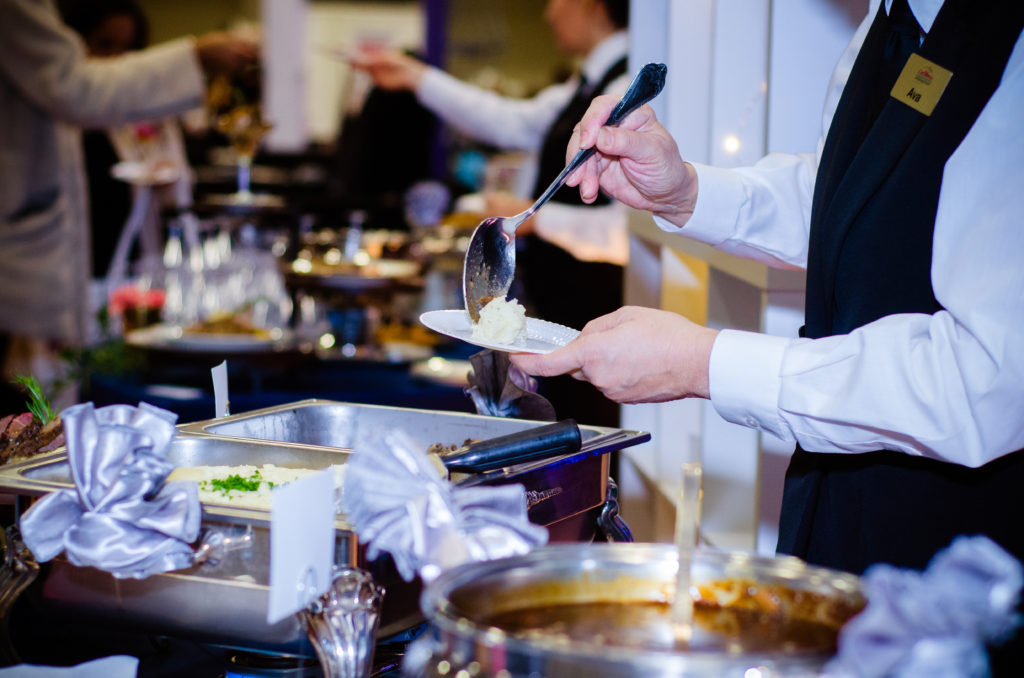 Have More Questions?
Call us today for your free 10-minute consultation and let one of our experienced catering coordinators guide you through any more questions you may have about buffets, or just wedding catering in general.
We are committed to the desires of our couples, and take great responsibility in your success. For over two decades we have helped hundreds of couples plan their dream wedding receptions – each one unique, elegant, but never stuffy. We can't wait to hear what you have in mind!
Feel free to refer also to our Reception Style Selector, where you'll find more detailed breakdowns of plated dinners, buffets, family-style, and more.
Schedule your free 10 minute consultation.
The fastest way to get answers, no obligations, no strings attached.
Get started