Here at Caribbean Caterers, we fully acknowledge the great impact that COVID-19 has had on every aspect of life, including our ability to safely gather in groups. Our top priority will always remain the health and safety of our clients, guests, staff and their families. Where would any of us be without each other?
However, we also recognize that celebrations are an important part of life, and we want to be sure that while keeping everyone as safe as possible, we also continue to provide the same level of service that our clients and guests have grown accustomed to over the years.
As we enter into 2021, our team has grown even more confident in the health and safety precautions that we have worked hard to establish over the past year. We also take great pride in the level of flexibility that we can offer in order to make sure that you feel comfortable planning a major event during such unpredictable times.
We have put together this COVID response to demonstrate some of the ways in which Caribbean Caterers will work to keep you safe, and to ease any fears that you might have about planning your next special event in 2021, and beyond.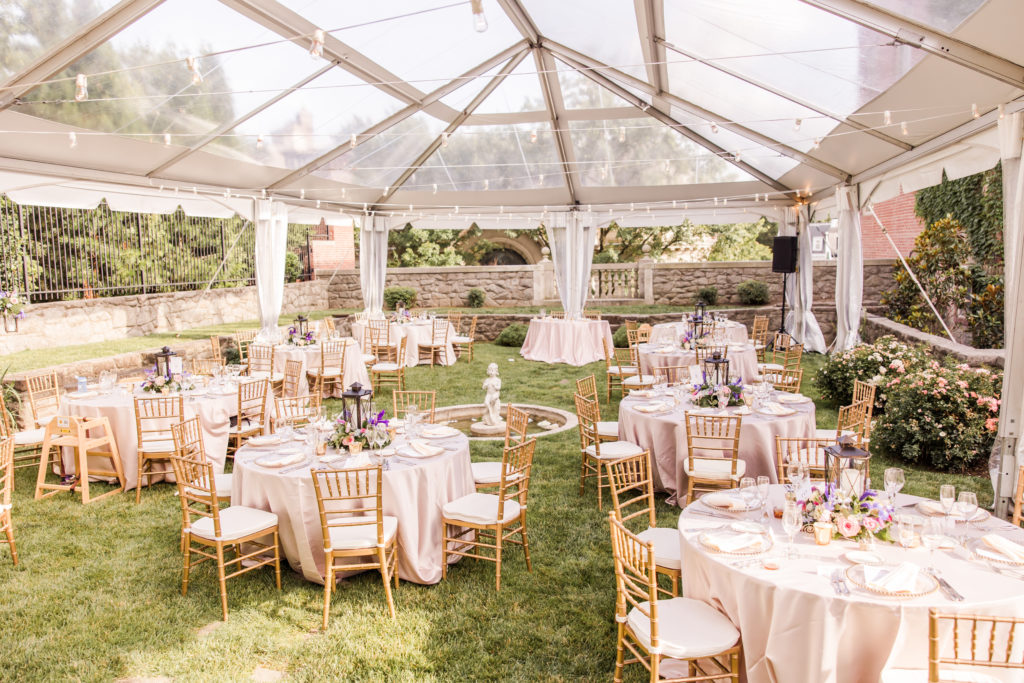 In the Office
While this may not be the first location to come to mind, all health and safety precautions that we take must start here. Each and every one of our employees is fully trained on the health and safety protocol for their specific workspace as well as that of Caribbean Caterers as a whole. It's everyone's job to take this virus seriously, stay educated and work to stop the spread.
Office and Warehouse Spaces
We perform daily temperature checks on all employees and persons making deliveries.
If traveling, employees are not allowed back into the office for 10 days once they return.
All desks and office spaces are spaced out so that no one is commingling in large groups.
We have installed separate air purifiers in office spaces and the warehouse in order to create multiple sterilized spaces.
Employees are asked to work from home when possible.
Food Prep Facility
We perform daily temperature checks on all employees and persons making deliveries.
All employees are required to wear masks, as well as gloves which are changed frequently.
We stepped up our safety and sanitation standards by managing high traffic areas and increasing the amount of sanitizer and hand washing stations available.
We now individually wrap all items such as china, linen and serving platters, that go to and from events.
All food prep facilities remain locked to outside persons throughout the entire day.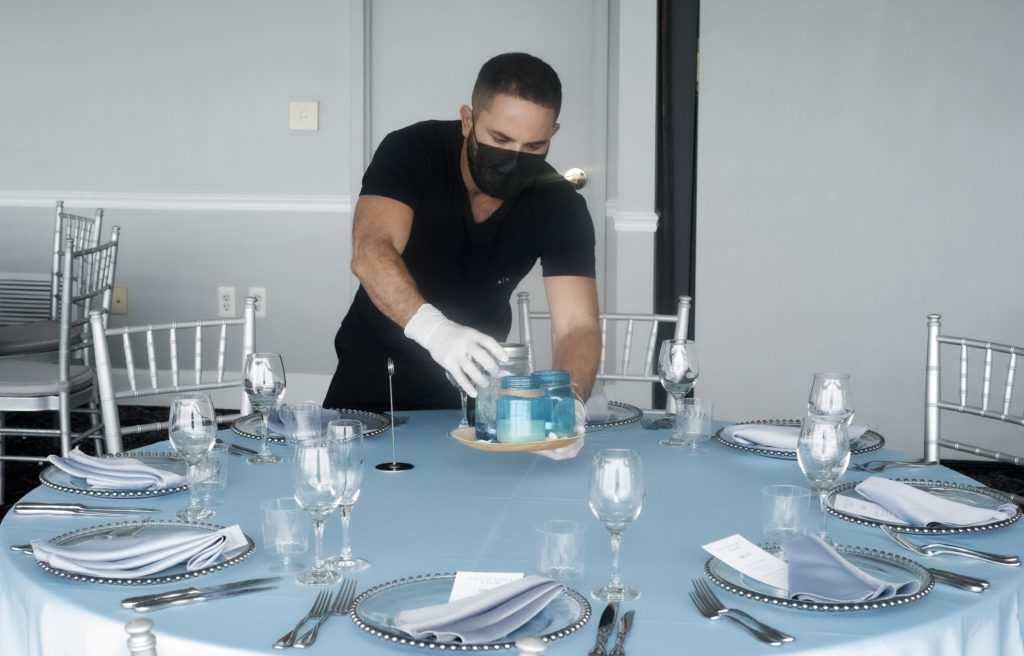 During the Planning Process
While much of the planning process can be done virtually, through email, or over the phone, there are times when in-person meetings must take place. For those instances, we have made the following adjustments:
Tastings
Rather than the group tastings we hosted in the past, our tastings are now all private and completely customized. We are still able to provide you with a wide variety of menu items to taste, but in a safe setting that is just you, our chef and a Caribbean Caterers coordinator.
Design Consultations
We have scaled back our design consultations to have smaller groups present.
We also provide the option to have a design consultation via Zoom, if you prefer.
Site Visits
We continue to make socially distant site visits and will remain fully masked at all times.
At the Reception
Once you make it to the day of your event, our team will work with your other vendors, and the venue, to ensure the following health and safety precautions are followed. We have found that putting these additional measures in place significantly helps guests feel comfortable and safe.
Throughout the past year, we have ironed out the following set of temporary safety guidelines based on increased social distancing:
At the Venue
Temperature Checks. We offer temperature check stations as an additional service, similar to coat check stations. These temperature check stations are yet another point of assurance for guests and can be provided at the entrance of every event. They are staffed by Caribbean Caterers and enforced by your coordinator or planner.
Staff. Each staff member is also temperature checked and will remain masked at all times. Those who handle food will also be gloved and will change gloves frequently.
Communal Items Discontinued. For the time being, we have discontinued all communal items, such as pitchers and salt shakers. Instead, these services are offered individually by waiters tableside.
Outdoor vs. Indoor. While we greatly prefer outdoor events, we do have the mechanics to make people as safe as possible indoors. Because we realize that not all events occur in the warmer months, heated tents are also an option.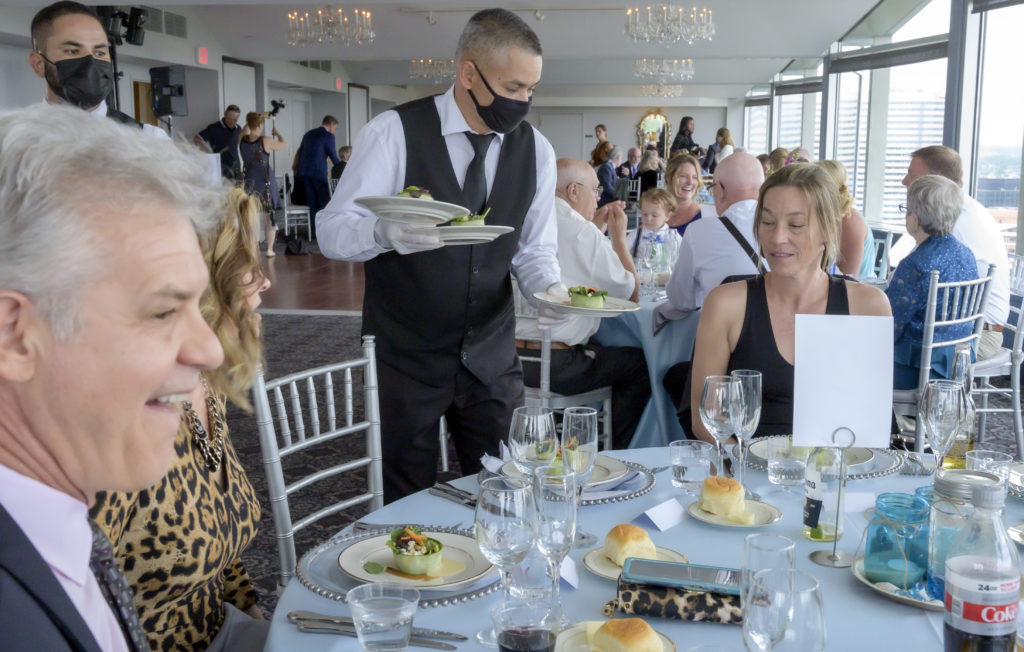 Service Styles
Passed Hors D'oeuvres. Rather than having servers pass a single item around the reception space, we have created pre-plated small plates with a variety of hors d'oeuvres to be given to each guest.
Plated Dinner. This is our preference as it provides the most opportunity for social distancing and the least amount of potential for cross-contamination. As we move into 2021 with more experience, we are now well-versed in making the switch over from a buffet to a plated dinner style so you can feel confident that no matter what happens, you aren't necessarily locked into anything.
Family-Style. We have all but suspended this service style for the time being.
Buffet. Plated service is still preferred to ensure safety for your guests, however we have worked to create additional layers of safety for both our guests and our servers if someone insists on having a buffet. Fortunately, Caribbean Caterers has always had servers at our buffets, so no change was needed here. However, we did purchase all new buffet equipment, such as sneeze guards, to create an additional barrier between the server, the food and the guests.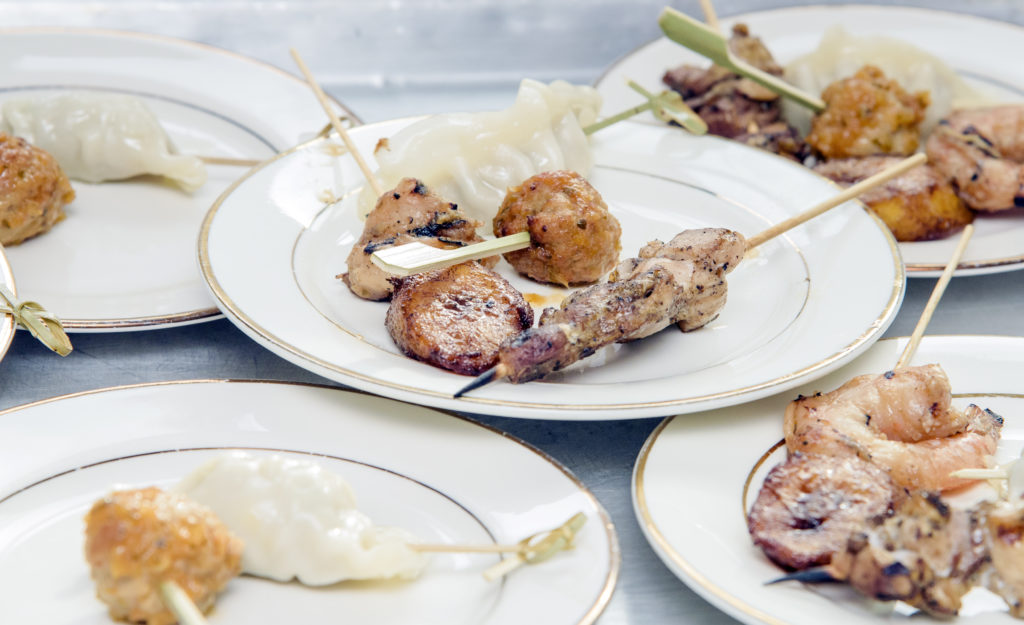 Seating
For each event, our goal is to make sure that the floor plan is as safe as it is attractive. This means that each seating chart takes a bit more time to put together, a lot of which will fall on you as the host. You will need to spend a bit more time asking your guests questions in order to figure out who can safely sit with who, and just how many tables you will need.
From there, Caribbean Caterers will work with your planner to come up with a visually appealing floor plan – one that isn't awkwardly spread out and will still look gorgeous in person and for photographs. This often requires a little creativity and extra tables, but we have had beautiful results. For example, at some of our 2020 micro weddings, we added several sweetheart tables in order to create a cohesive, intimate floorplan with very few people.
Micro Weddings
This tiny wedding style was trending even before 2020, but has now completely blown up. For more on micro weddings, check out the following: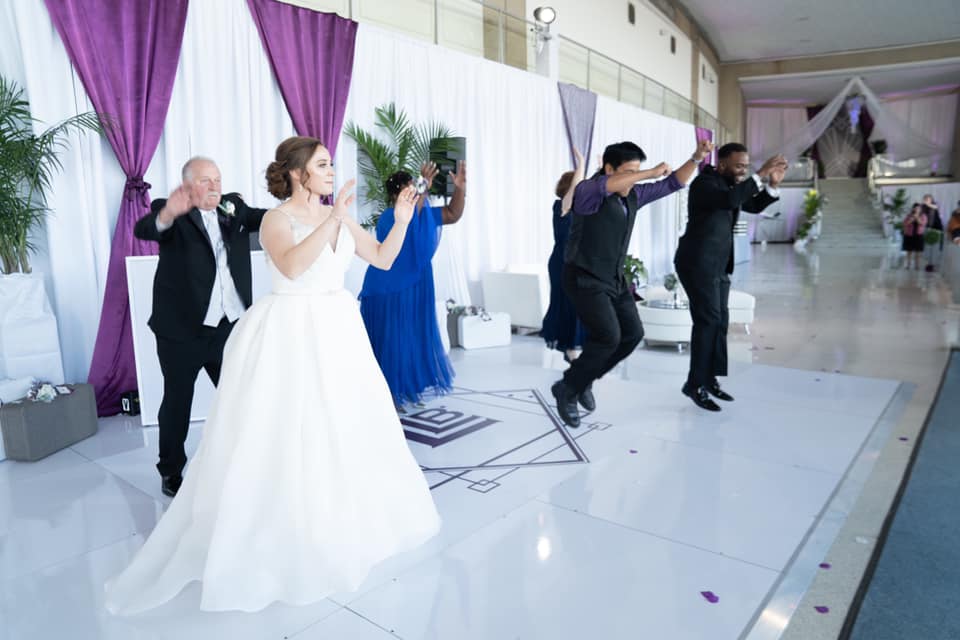 Caribbean Caterers Special Circumstances Clause
So, while these precautions may help to calm your fears surrounding health and safety, you may still be wondering how you can possibly plan for an event during times as unpredictable as these. How will you be able to choose a date or estimate your guest count, when no one knows quite what the immediate future will look like?
This is why we have put together a Special Circumstances Clause that allows you an immense deal of flexibility for 1 year, including:
No penalty to reschedule your event for 1 full year.
Ability to make changes throughout the process based on the guest count.
Have until 30 days before the event to provide a minimum guest count.
While other vendors charge a monetary penalty, we allow you the freedom to put everything on hold (due to COVID) for up to one year. This way, you can feel completely comfortable to book and begin planning now, and still make changes along the way as needed.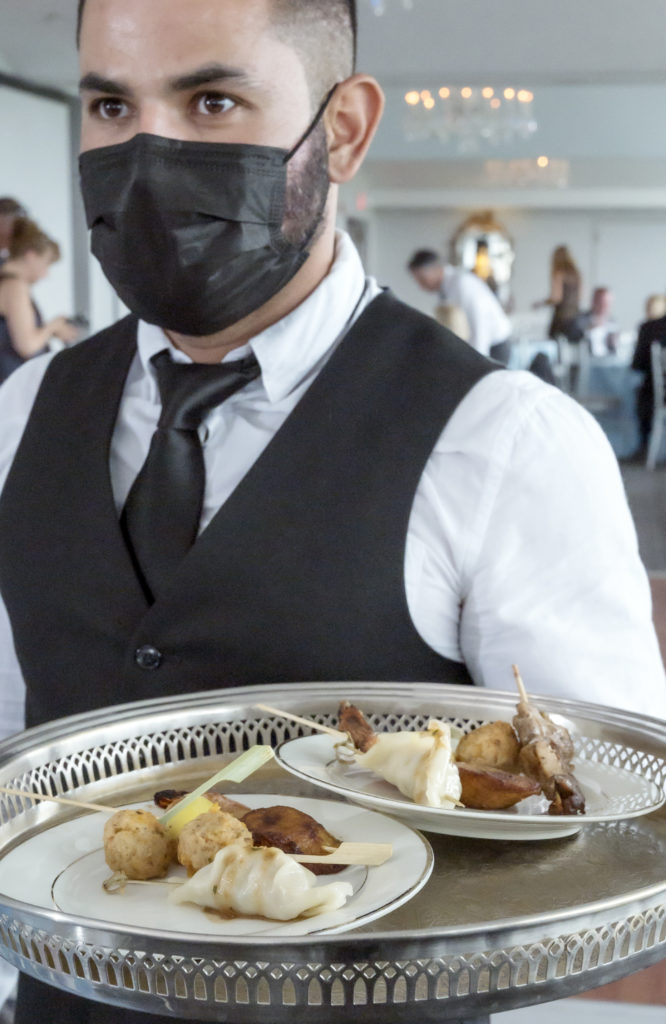 Have More Questions?
We appreciate your patience during these times, and look forward to a time when we can all safely gather together again as before. This is an entirely new existence for all of us, and we will continue to update these safety precautions as we navigate any new changes and/or updates to Federal and Local regulations.
In the meantime, you can always reach out! If you haven't done so yet, contact us to schedule your free initial consultation where one of our experienced catering coordinators will guide you through this, or any other questions or concerns you may have. We would love to help you get creative and excited as you plan your next event!