Schedule your free 10 minute consultation.
The fastest way to get answers, no obligations, no strings attached.
Get started
Small, intimate weddings have never been as popular as they are in 2020. Couples around the world are trying to find unique ways to still celebrate their wedding in a way that will fit with their individual situations, and keep their guests safe.
Micro weddings have become an attractive option for those who want to go ahead with their dream wedding, but also want to comply with regulations and fit within their budget.
What is Considered a Micro Wedding?
A micro wedding is defined as any wedding that maintains many of the same elements and customs as a traditional larger wedding, but with just 50 guests or less. They can be as simple or as extravagant as you want, and offer more flexibility and unlimited opportunities for personalization. Plus, you'll get to spend your big day with only the most important people in your life.
One of the most exciting micro wedding trends that we have seen emerge is the backyard wedding, so we have put together this blog to give you answers to some of the basic questions, like whether or not a backyard wedding is right for you and how you can safely pull one off during a global pandemic.  If you are curious about the logistics and possibilities, keep reading for a few of our tips and tricks for planning a magical (yet seamless!) backyard wedding.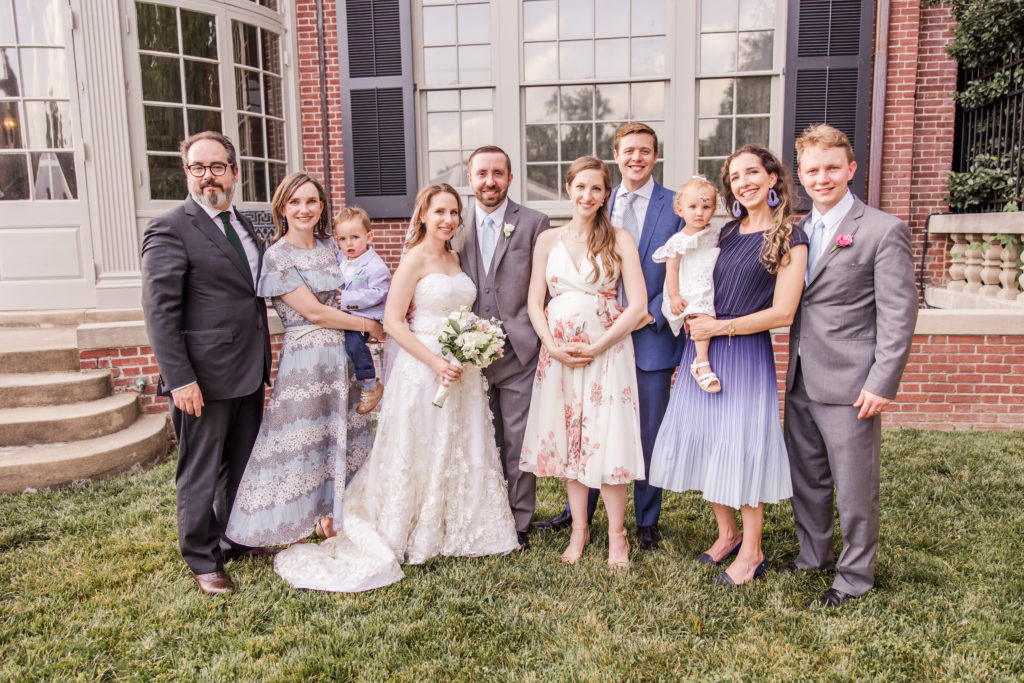 ---
Should I Have a Backyard Wedding?
Backyard weddings are our personal favorites! They are simply like no other wedding, and at Caribbean Caterers we thoroughly enjoy the challenge of working in a brand new space. Our team loves imagining with our clients just how to practically use their home for the comfort and enjoyment of their guests, while still making things elegant, beautiful and stylish.
Sure, a backyard wedding often means extra planning, as your planner, caterer and other vendors will not be at all familiar with the layout or quirks of the space like they would be with other venues. But here's why we feel the benefits far outweigh the challenges:
They are the epitome of intimate and personal. You are literally inviting your guests to your home! For several of our more recent backyard weddings, the Bride has gotten ready (hair, makeup, dress) in her very own bedroom, while her fiancé typically stays in a hotel the night before.
You will be able to hold onto the memories of a lifetime inside the very house you live in. Just imagine being able to reminisce about your beautiful wedding day each time you look out into your backyard, or taking your wedding photos in your own garden or with your street sign in view.
No one else will have your venue, and no other wedding will be like yours. You can make your "venue" exactly as you would like, unlike other venues that have a variety of restrictions.
You can spend some of your wedding budget on landscaping – a permanent feature for you to enjoy for as long as you live in your home.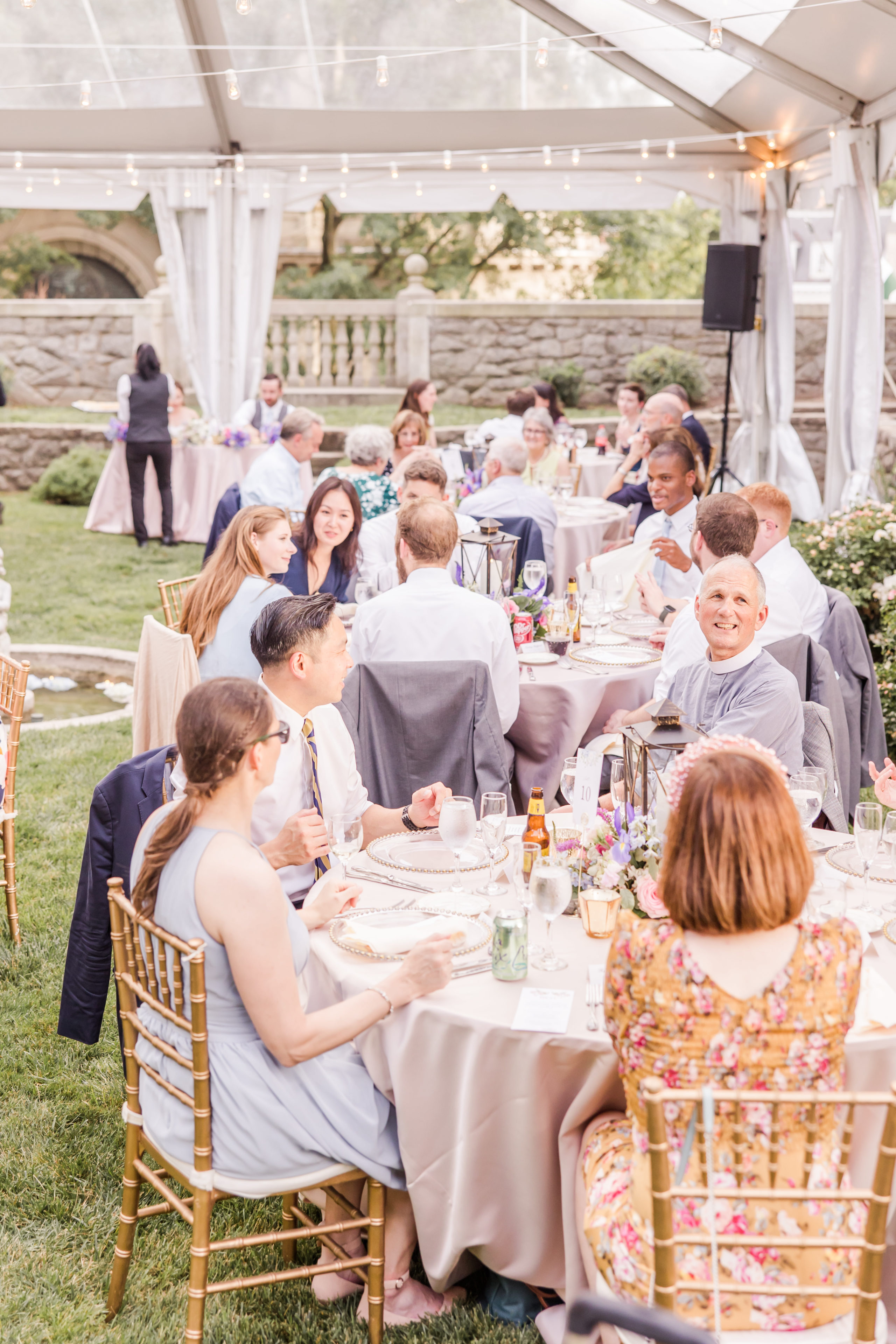 ---
How Do I Convert My Backyard For My Wedding?
Many Brides and Grooms have probably never considered a backyard wedding because they feel as though they wouldn't be able to accommodate a large crowd in their home, with formal seating, separate areas for the ceremony and reception, parking, etc.
But with a micro wedding, much more is possible!  Picture this scene: your guests arrive at your home and are greeted first by a valet attendant.  They walk up a flower petal-lined driveway and are greeted by a hostess who shows them to their seat.  Your guests walk around back to the tent which is beautifully set with tables that have been sized and decorated for each family.  Hopefully, you can begin to see the bigger picture.  
With a smaller guest list, and an experienced wedding planner, you can absolutely have your dream wedding in your very own backyard.  Here are a few tips and tricks, based on our own experience with planning backyard micro weddings:
Do everything outside. You should make sure there is no need for anyone to come inside (including guests and vendors).
Rent tents. There are many beautiful options on the market, and we have designed some to be just as elegant as any ballroom in town.
Keep tent side-walls open so there will be constant air flow in the dining area.
Include a caterers tent so the waitstaff will not need to access any indoor facilities.
Rent portable bathrooms, and hire an attendant to disinfect after each use. You may even consider renting an Executive outdoor restroom – they have come a long way from the "Port-A-Pot" and are designed like an indoor bathroom to include a hand sink and flushing toilet.
Consider valet parking to heighten the guest experience & lessen the congestion on your neighborhood streets (your neighbors will thank you too). You can also encourage your guests to take an Uber, or use a shuttle service if many of your guests are staying in a hotel nearby.
Budget for landscaping. This may be as simple as pruning and fertilizing or as much as having new flowers and shrubs planted. Either way, it will be a good investment.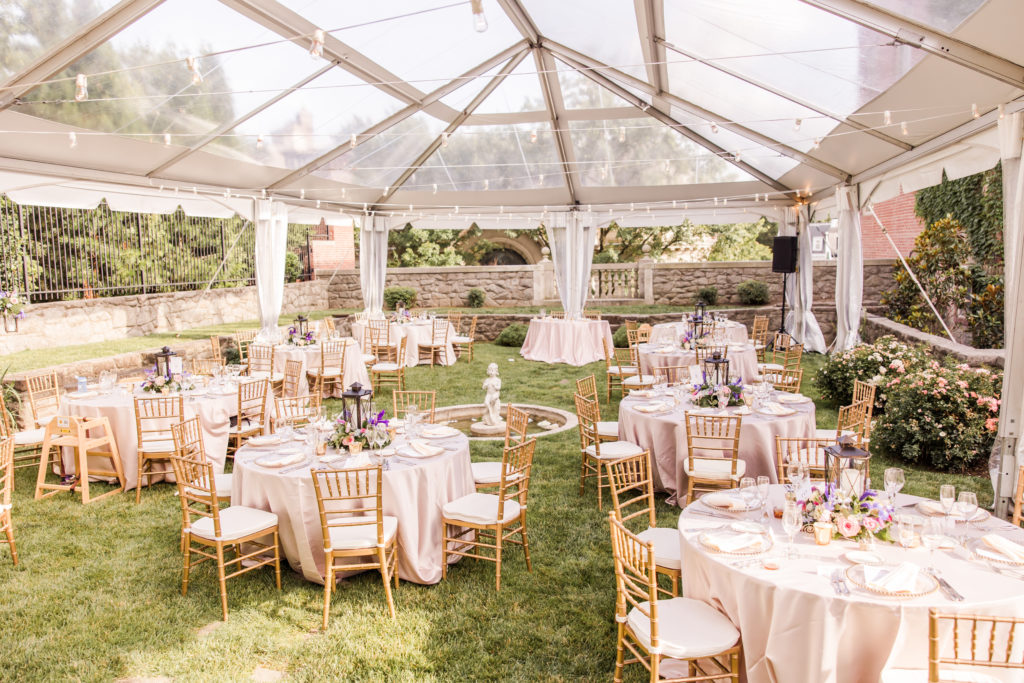 ---
Have More Questions?
Call us today for your free 10-minute initial consultation and let one of our experienced catering coordinators guide you through any more questions you may have planning your own backyard wedding, or micro weddings in general.
For over two decades we have helped hundreds of couples plan their dream wedding receptions – each one unique, elegant, but never stuffy! We can't wait to hear what you have in mind.
For more information on micro weddings, check out these other articles:
Schedule your free 10 minute consultation.
The fastest way to get answers, no obligations, no strings attached.
Get started